Crochet Keychain: Level Up Your Keyring
This post may contain referral/affiliate links. Please read my disclosure for more info.
A crochet keychain can be a cute gift or maybe you'll just have to keep one for yourself! Since these keychain patterns are so small, now's the time to utilize your scrap yarn collection!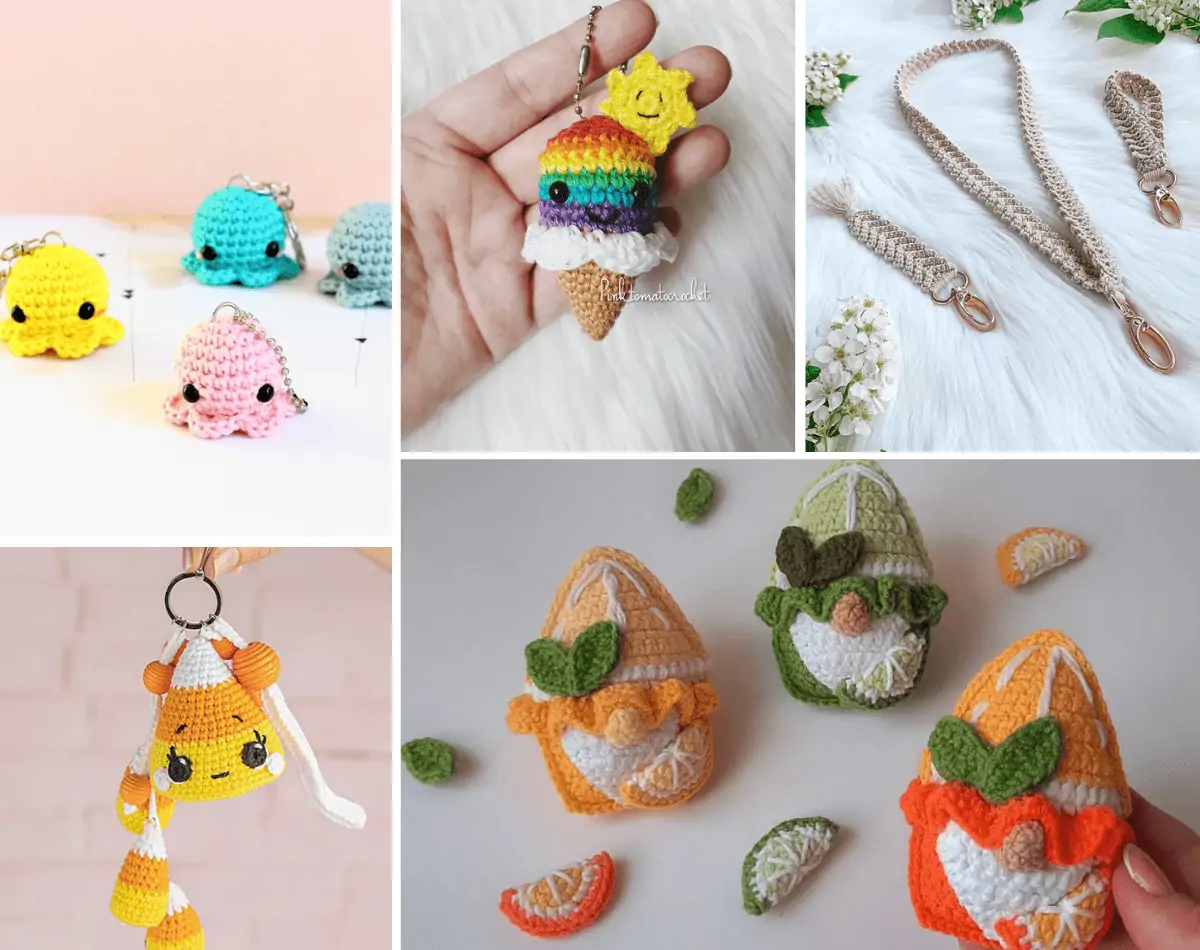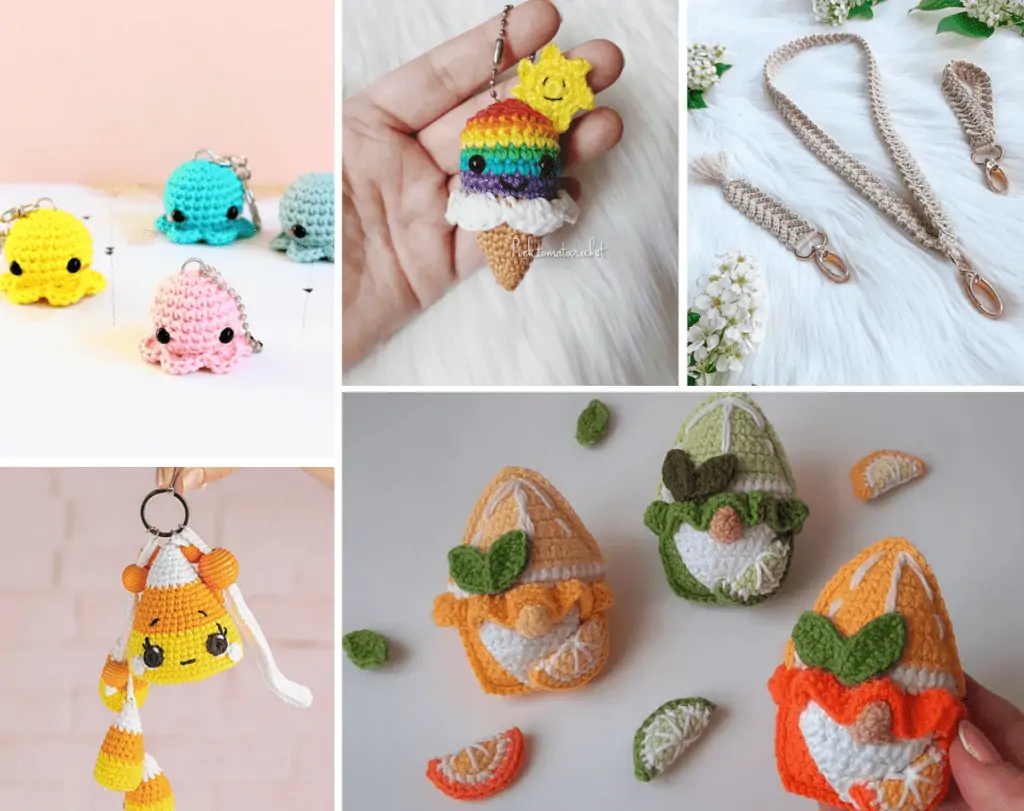 A lot of these patterns can be customized to your favorite color without losing the idea behind the pattern.
Most of these patterns use a variety of basic crochet stitches, so make sure that you know how to work a single crochet stitch, double crochet stitch, and slip stitch (sl st). Since these great patterns won't take a long time to complete, your cute keychain is just a few steps away!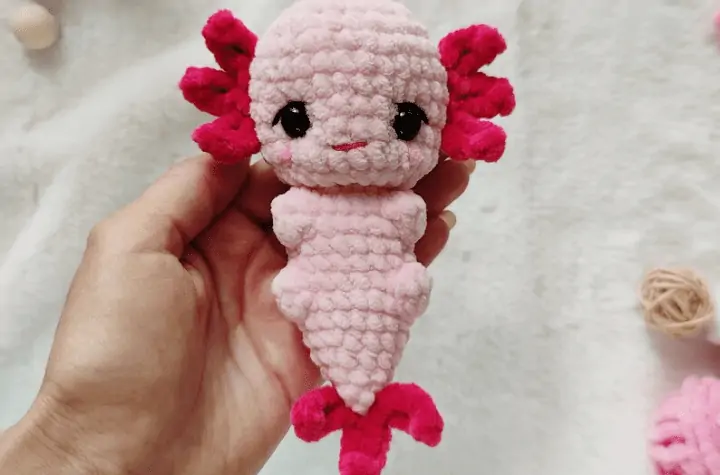 If you like a bit of a bigger keychain, this Axolotl amigurumi pattern by Little Rabbit Toys is super adorable and the perfect option to make sure you never lose your keys! I also really love the detailing on the face of this pattern, it really levels up this cute keychain.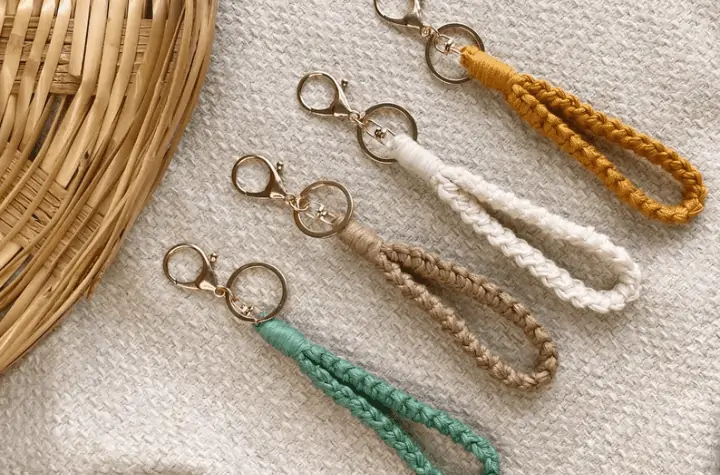 Your pants don't have pockets and you aren't feeling the bag vibe today? Never fear! Christina Ann Studios has you covered with this gorgeous Halcyon Keychain wristlet pattern. Plus, you can use your favorite yarn colors and quickly work them up for all your friends!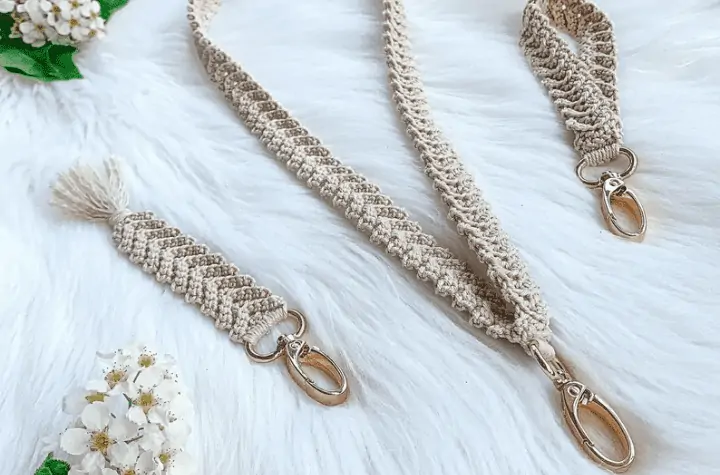 We all need options sometimes, and that's where the Freja 3-in-1 keychain pattern by Animo Design Shop comes in! I really love the fact that this pattern includes a lanyard style, sometimes it can just be so nice to have your hands free.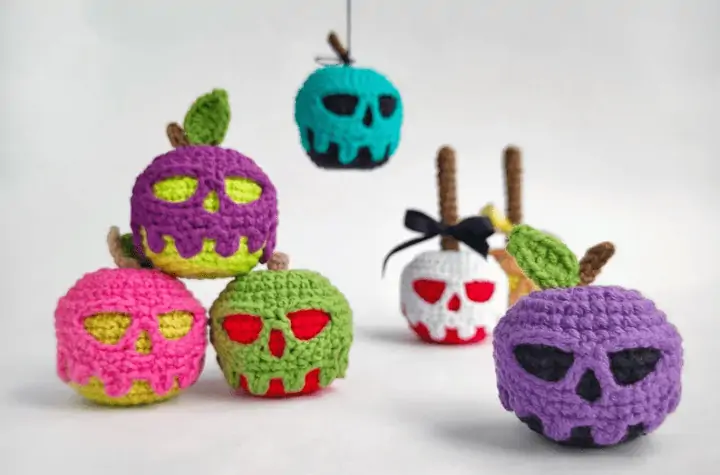 Snow White really had a whole lot of trust to take a bite out of that apple, didn't she? Either way, make yourself this stunning poison apple crochet pattern keychain by Fayni Toys because it would make such a cute charm!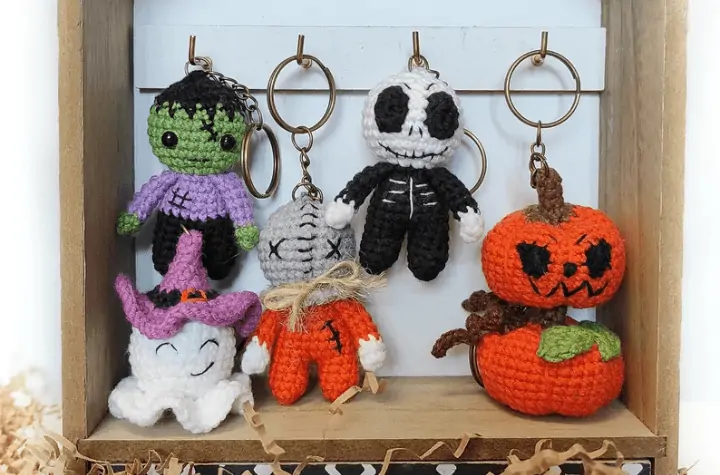 If you know a horror-loving kid, the Halloween keyring crochet pattern by Magic Mir Toys is perfect for decorating school backpacks! These would also be great sellers at a Halloween-themed craft fair. Personally, I really love the little ghost keychain with the witch hat, it's simply so cute!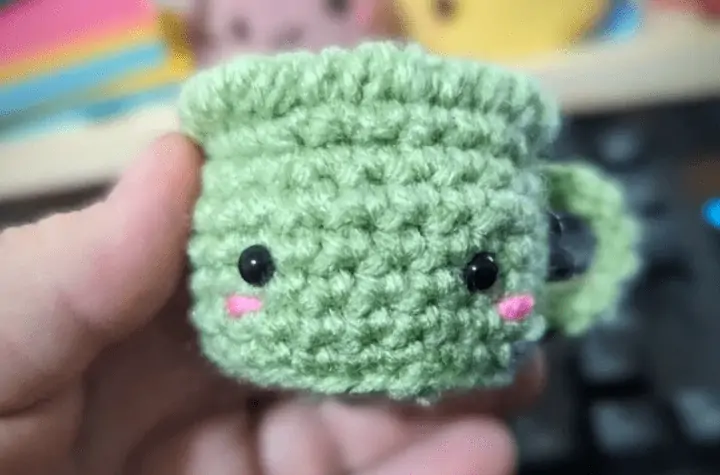 Whether you're making this for your favorite barista or a coffee lover in your life, the Amigurumi Coffee Cup pattern by Fernweh Crochet Studio is just too cute! I love the look of this adorable little guy.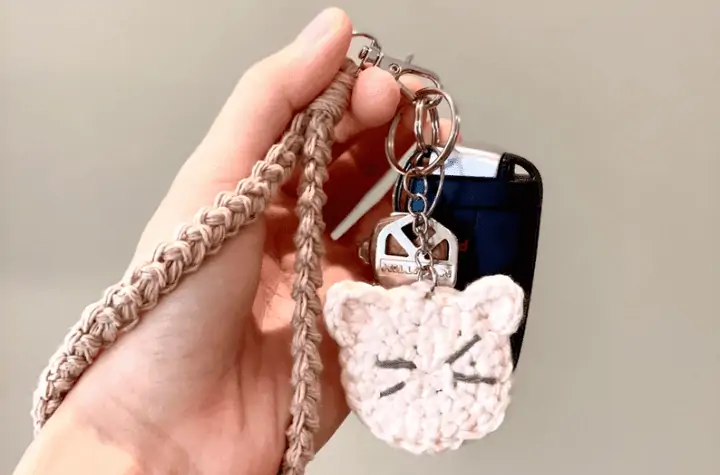 If you're always looking for different ways of including your little feline friend in your daily life, keep this as a little memento of them! The Cat Keychain Wristlet by My Alpaca Studio is just too cute and it really is such a cute keychain while still remaining rather minimalist.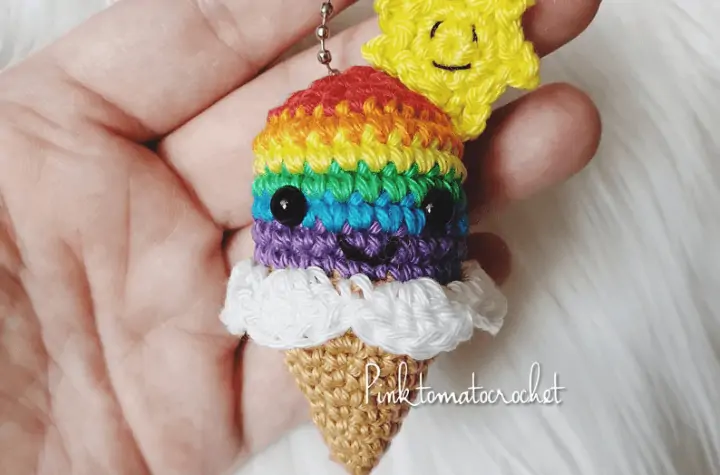 Who doesn't love a bit of ice cream? Keep summer with you all the time with this rainbow ice cream keychain by Pink Tomato Crochet! I really love the white yarn that separates the cone and the rainbow, as it gives the appearance of little clouds! Honestly, this crochet ice cream cone is a little show-stopper!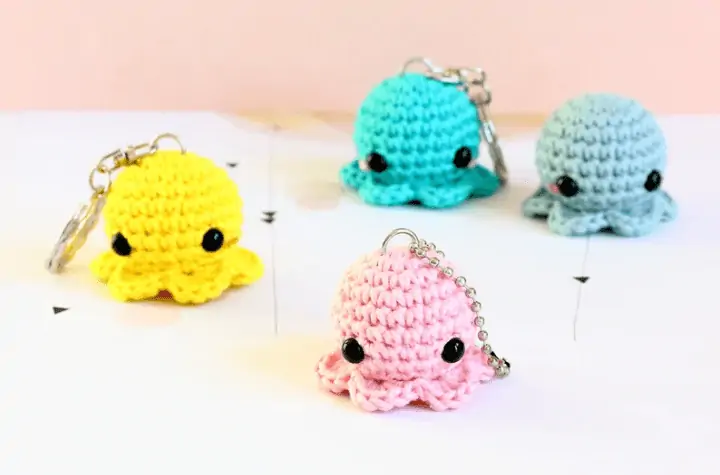 So Croch's little octopus keychain is just so adorable! I am obsessed with the bright yarn colors, they're just so cute!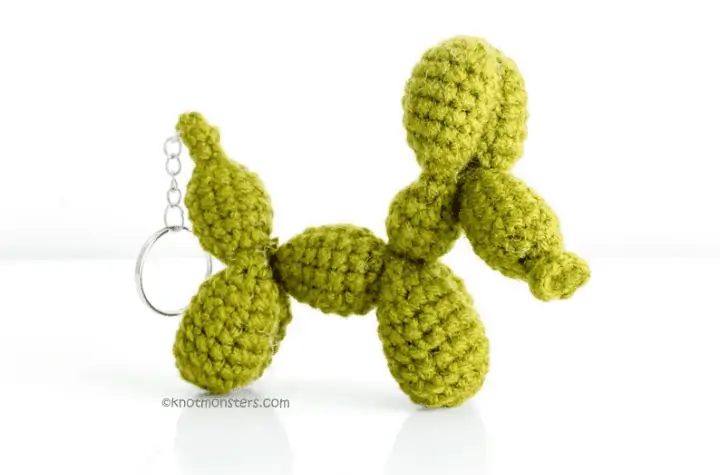 Honestly, how can you say no to this adorable Dog Balloon Animal Crochet Pattern by Knot Monster? Like, just look at this adorable pattern!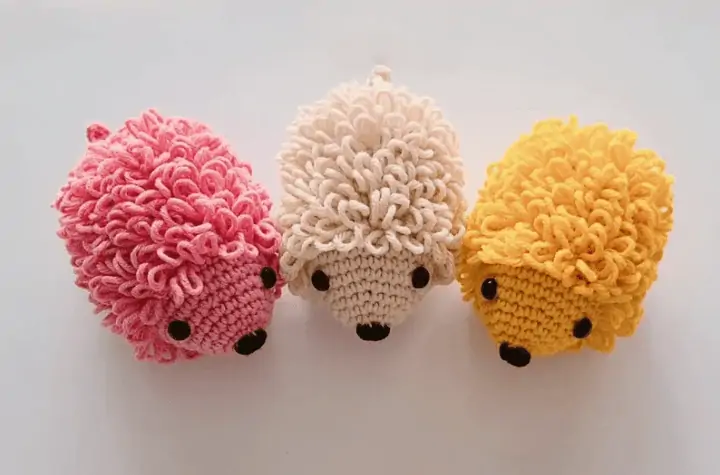 I don't think that there's anyone who doesn't like hedgehogs, right? This adorable hedgehog keychain pattern is by DDream Headwear and I am a little in love. I mean, just look at this cuteness!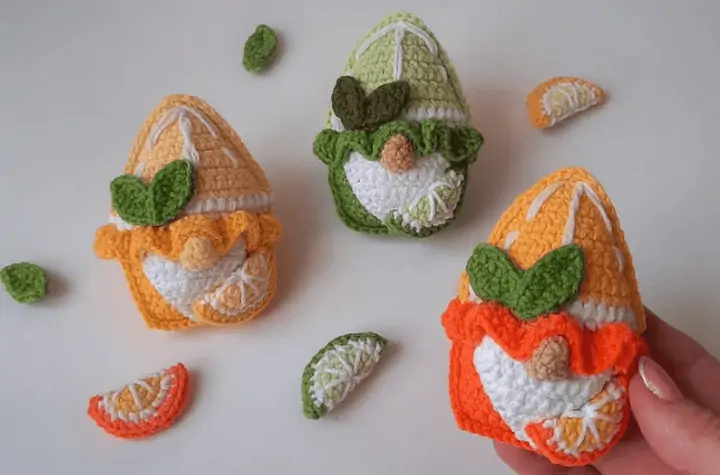 I didn't know I needed citrus gnomes in my life until now. These lemon, lime, and orange gnomes by Funny Rabbit Toys are so cute and look like such a fun project!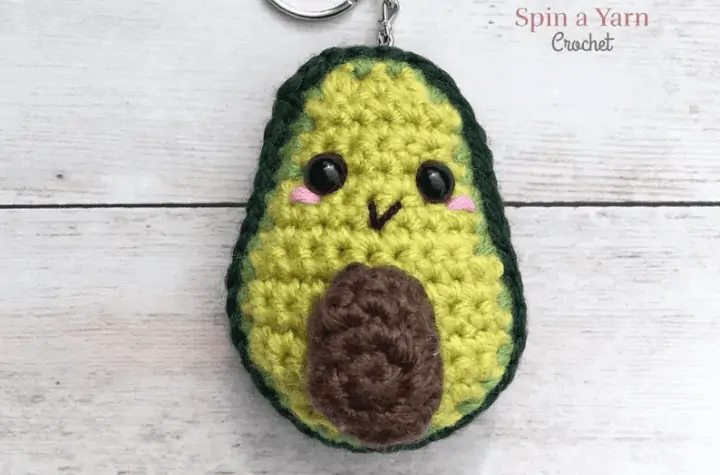 Everyone needs a little avocado keychain in their life, right? This adorable pattern is by Spin A Yarn Studio and I really love how cute it turns out to be!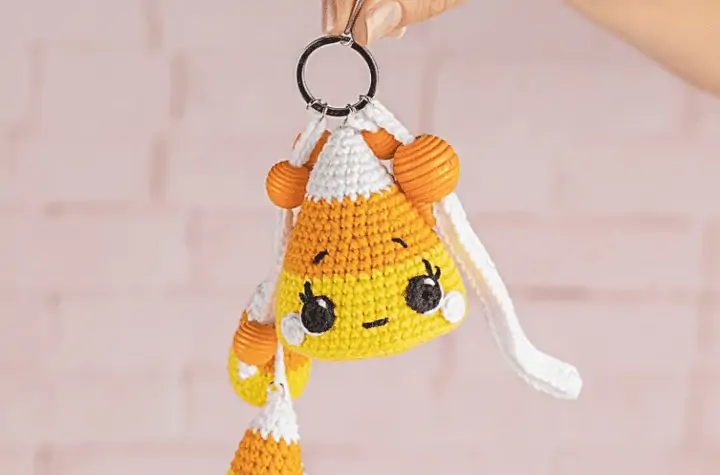 These little candy corns are perfect for fall! The Halloween Candy Corn pattern by Mufficorn is so adorable. I kind of love the idea of changing around your keychain with the seasons, it just feels like a fun touch.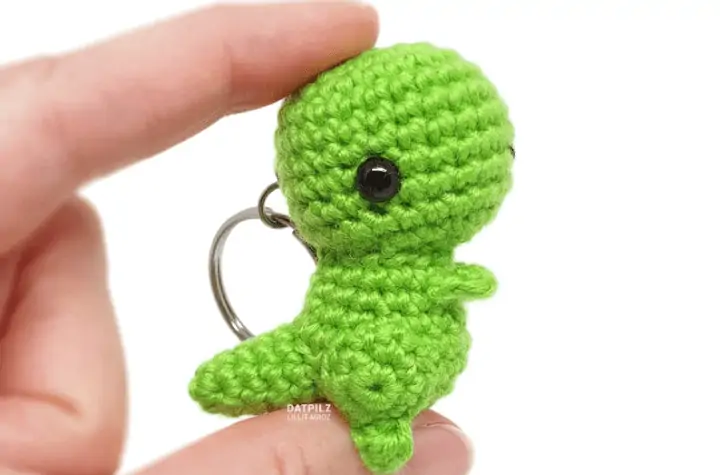 These little dinos by Datpilz are the perfect companion for wherever your travels take you. I also love that this listing includes a variety of color options for you as well so you can really visualize what your yarn color of choice may look like.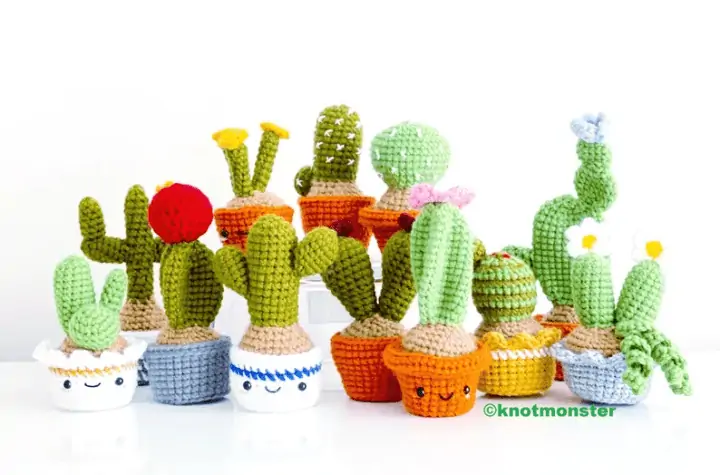 This pattern is perfect for the cactus lover in your life! The mini cactus garden pattern bundle by Knot Monster features twelve different cacti, so you can make it for all your friends without having to make repeats!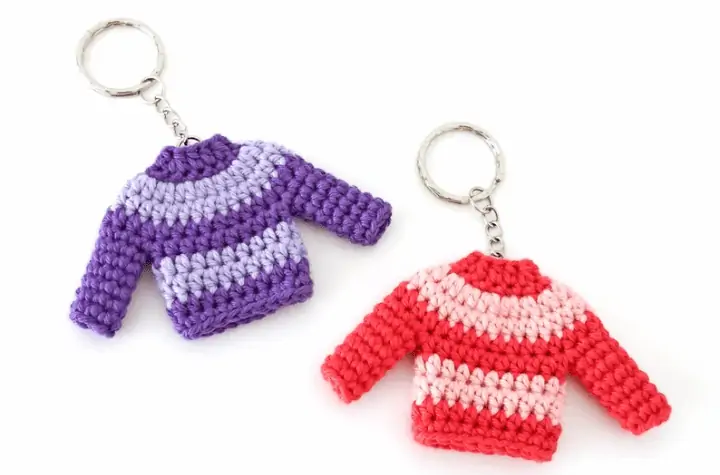 If you want something a little cozy, these sweater body keychains by Stitch by Fay are so cute! I love the idea of making them little winter colors. maybe an off-white with a light blue.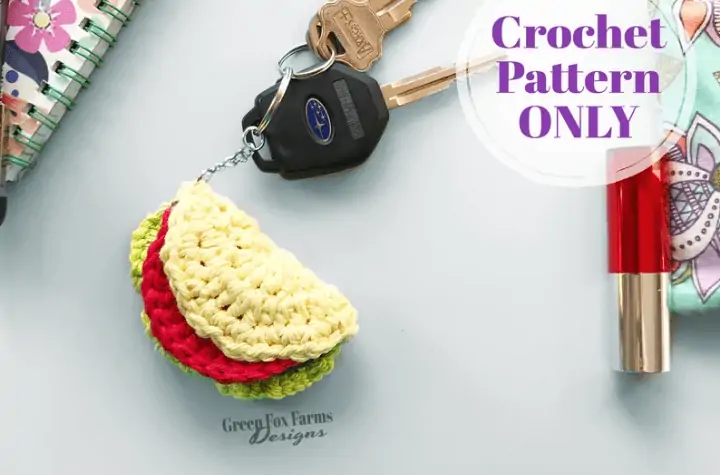 Can we taco-bout this cutie? The taco keychain by Green Fox Farms Designs is absolutely adorable. I really love that you can see all the toppings in this taco as well.
I love seeing your finished projects! If you enjoyed making one of my patterns I'd love to see yours on Instagram, be sure to tag me @crochet365knittoo. If you are on Facebook, stop over to the Crochet 365 Knit Too Facebook page or pop over to the Crochet365KnitToo Club and share a photo! I'd love to see your work.