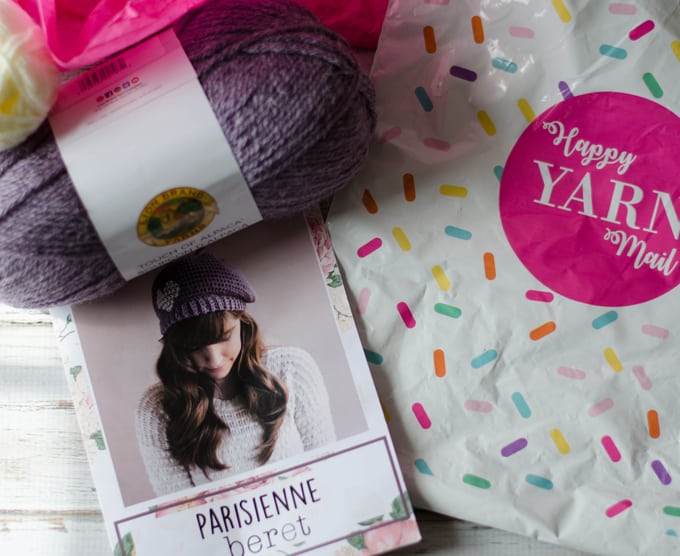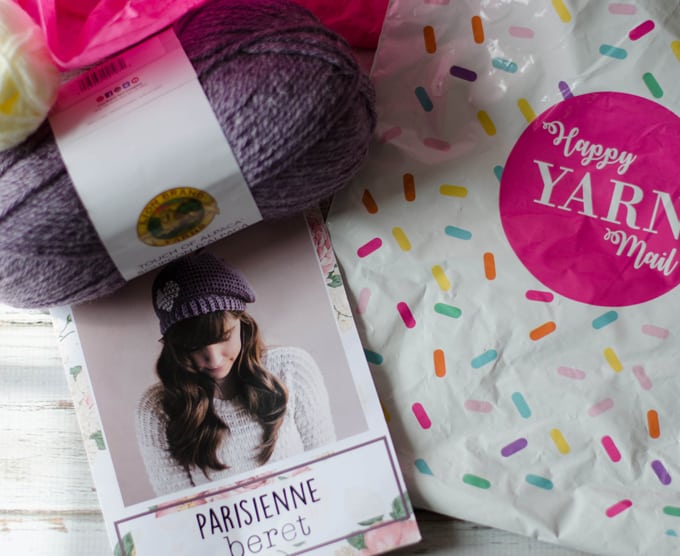 Look, look, look!  Here's what came in my mailbox!  I am SOOOO excited!  And oh so HAPPY!
See that crinkled up bag?  And that bright pink tissue paper?!  Uhm.  Yeah.. That was me, super excited to get last month's Happy Yarn Mail delivery!  Don't you just love getting a present in the mail?  Think of how an exuberant puppy greets her owner– tail wagging, jumping and running around the house like a crazy person.  That was me.  On the inside.  On the outside, I was all nonchalantly getting out my scissors to break into my happy dance.  I mean to open my Happy Yarn Mail package!
Thank you to Ashleigh and Happy Yarn Mail for supplying me with this sample to review!  I'm in love!
I am super impressed with everything in this great surprise kit!  Great yarn–and see that Lion Brand Alpaca?  Swoon!  I've been dying to try that!  And that cutie little DIY yarn?  Sigh.  I've been eyeballing those at the craft store for like forever.  And yeah.  Now I've got some.  Lucky me!
Ashleigh, the designer at the oh-so-popular Sewrella.com runs Happy Yarn Mail too.  It's a subscription service.  For a low price, you get a surprise pattern and the supplies to make it.  In the pattern is a link to an exclusive how to video where Ashleigh shows you everything you need to know.
So the way this works is that you can buy Happy Yarn Mail once OR you can sign up for a subscription–which is a good idea because they usually run out really quickly and you don't want to miss anything.  The cost is $19.95 a month.  What you can't do is return it if you don't like it.  I get that because it's a way to keep the monthly cost low for everyone.  So it's a surprise and if you don't like, well, you just got yourself some yarn for your stash for something else and hopefully you'll like the next month better (but you can cancel before then if you want).  I'm pretty sure you're going to love it, though.  Ashleigh is a top designer that I think you'll love as much as I do!
Oh.. and I should mention this too.  I'm making an assumption that you want to keep this bit of goodness all to yourself.  But really.. this would make an amazing gift for someone you love.  Can you imagine how happy your crocheting mom or grandma would be to get this in the mail every month as a gift from you?!  Sigh.  I'd be in heaven if someone got me such a thoughtful (and ongoing) gift.
I'm super excited and I hope you are too.  Check out more details to get your own Happy Yarn Mail here.  I can't wait to see what's coming in my mailbox next!