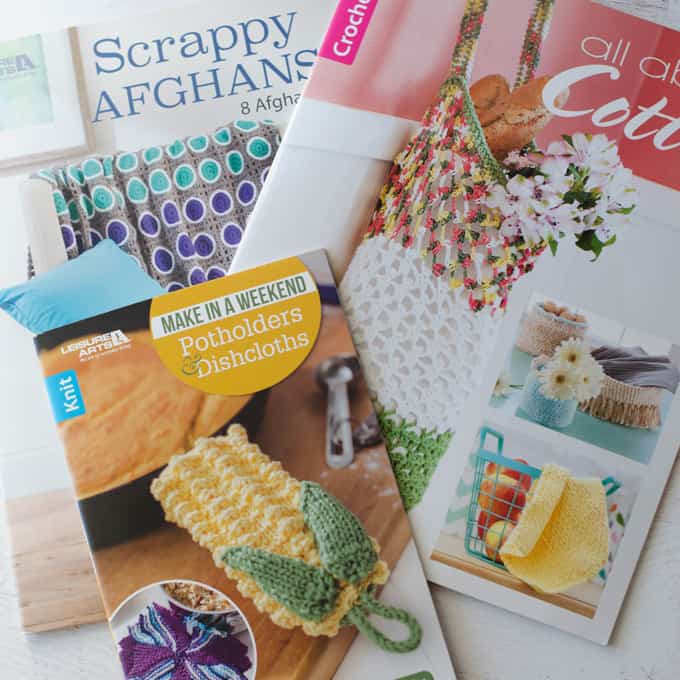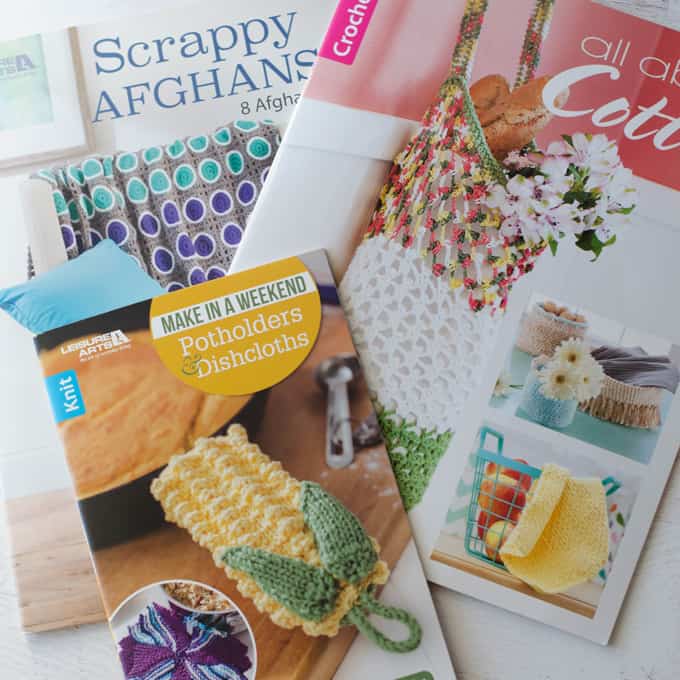 If you are like me, you are more than ready for sunny days and bright cheery projects!  I'm loving these crochet and knit pattern booklets right now!Every now and then Leisure Arts sends me a few free books in exchange for my honest review and because I love my yarny goodness, I'm always happy to oblige!  All About Cotton is full of fun and fast projects for your home from a really handy market bag to a rug to placements..you name it!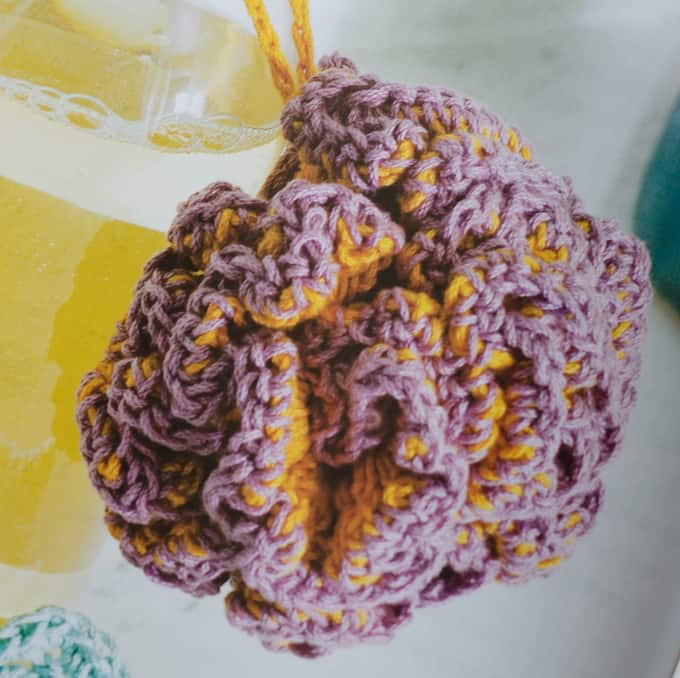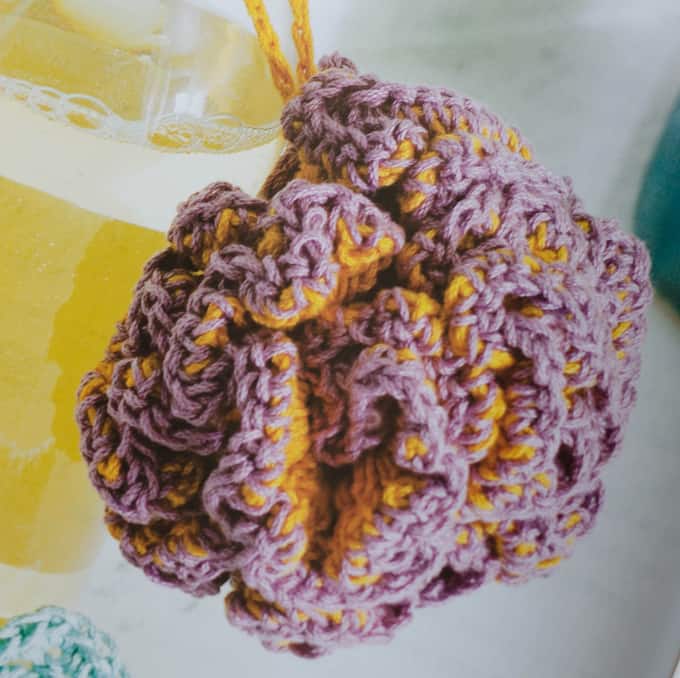 I'm pretty much loving this bath pouf!  It is part of a crochet bath set and would make such a nice gift for Mother's Day or a special birthday.  You can even make my face scrubbies to make the set even bigger!  The book also includes some great dishcloths, coasters and a water bottle holder-plenty of great patterns to choose from.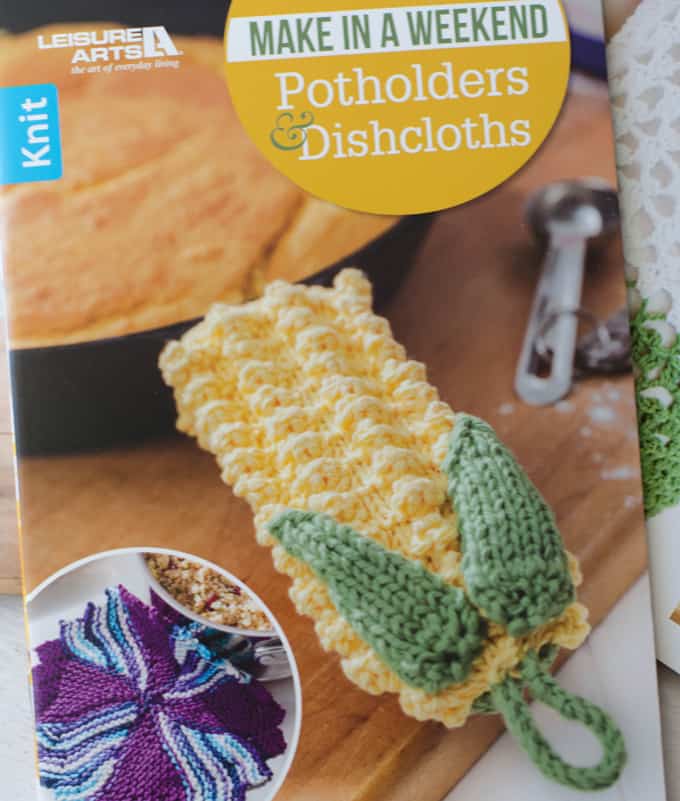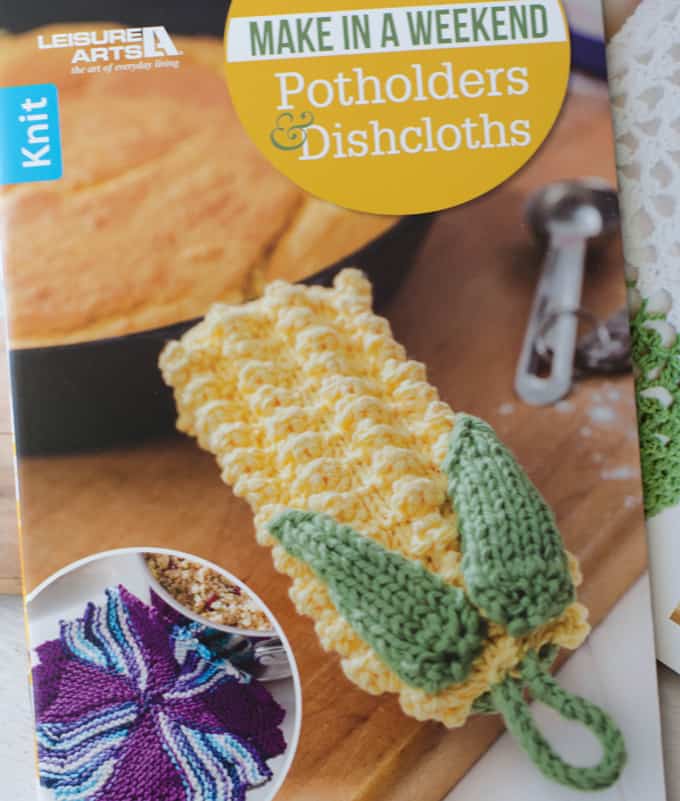 Make in a Weekend Potholders & Dishcloths has some great quick knit projects.  My favorites include the World's Quickest Dishcloth (it's really called this!) and that cutie corn cob pan handle cover in the photo.  Reminds me a bit of my crochet skillet handle cover pattern only knitted and textured to resemble a corn cob! It even has a hanging loop so you can hang it up when you are done and it's not so easily lost in a drawer!
There are a lot of easy patterns in this booklet that you'll love to try!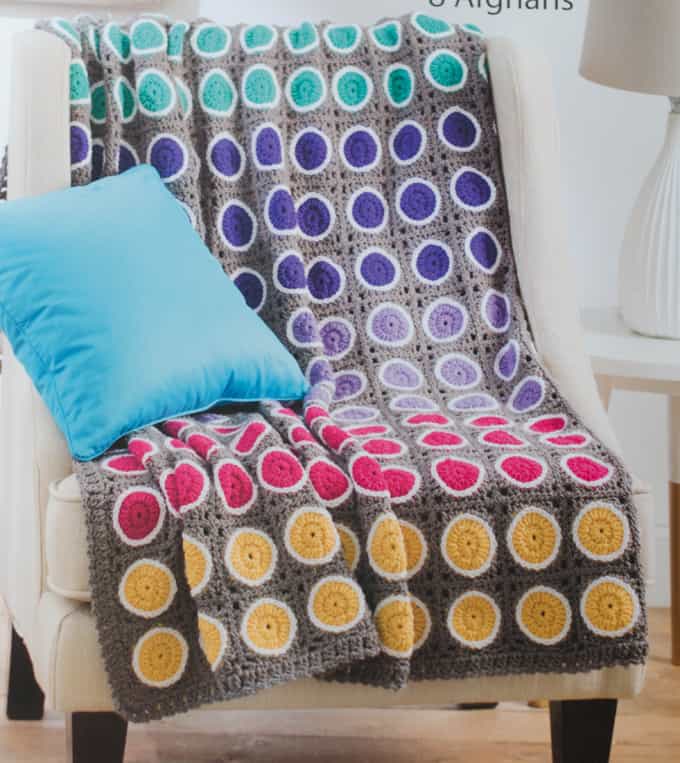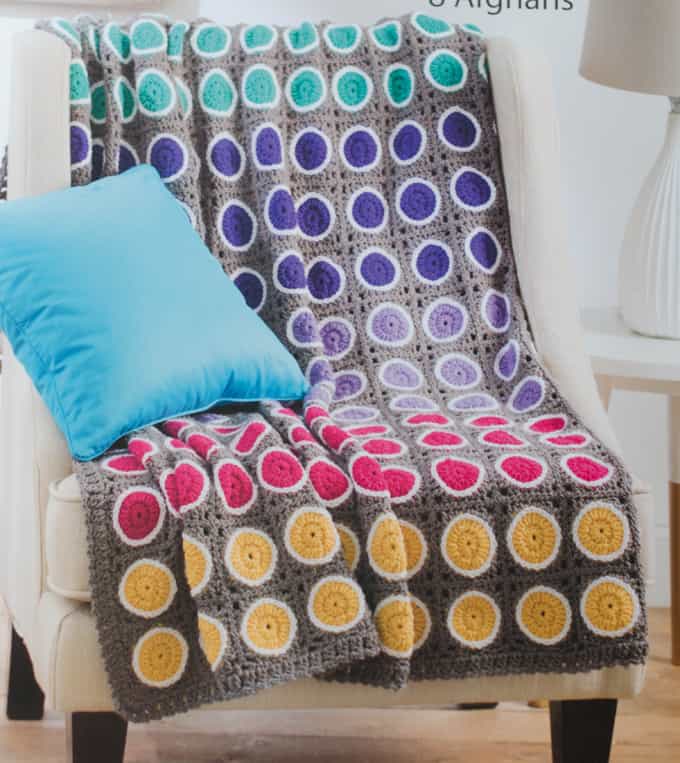 I've saved my favorite for last!  Scrappy Afghans features 8 afghans that you can make out of scrap yarn.  I don't know what it is about scrap yarn..but planning scrap yarn projects somehow makes me feel productive.  I love using up what I have while making something really amazing!
The Circles Squared afghan on the cover is so fun!  You could even go more scrappy by making the circles out of different colors.  Remember, any neutral will work, so gray, beige, white, off-white and black all work well to set off the stash of colors in your stash!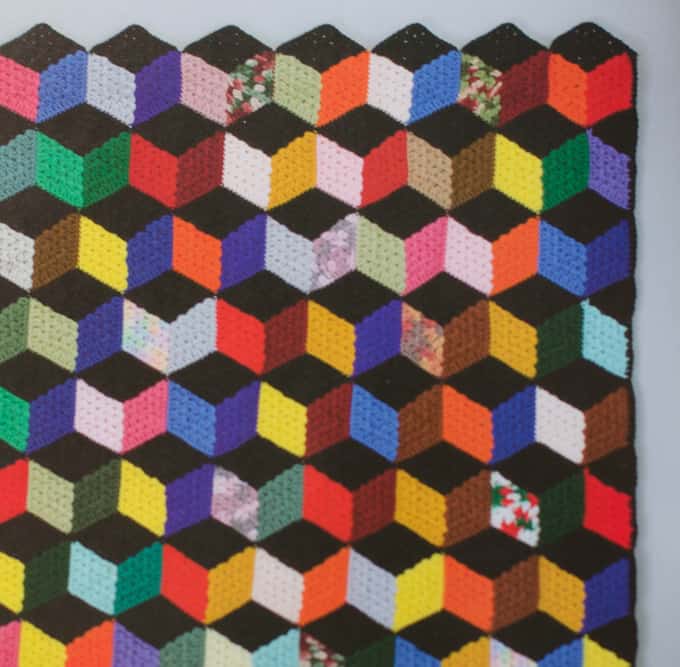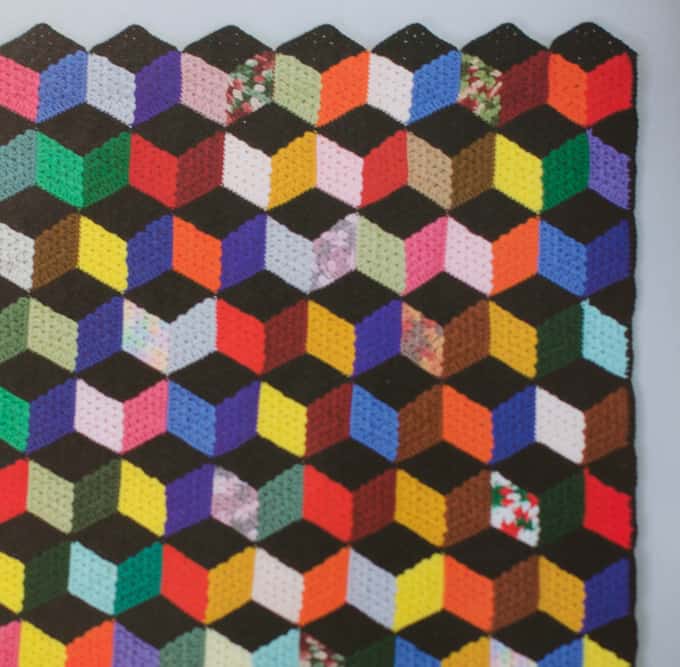 These crochet tumbling blocks are a spin on a quilt pattern. They remind me of my grandma because I remember her sewing a tumbling block quilt.  This is a great use for leftover yarn because each color section uses a small amount of yarn–great for all those little scraps you have around.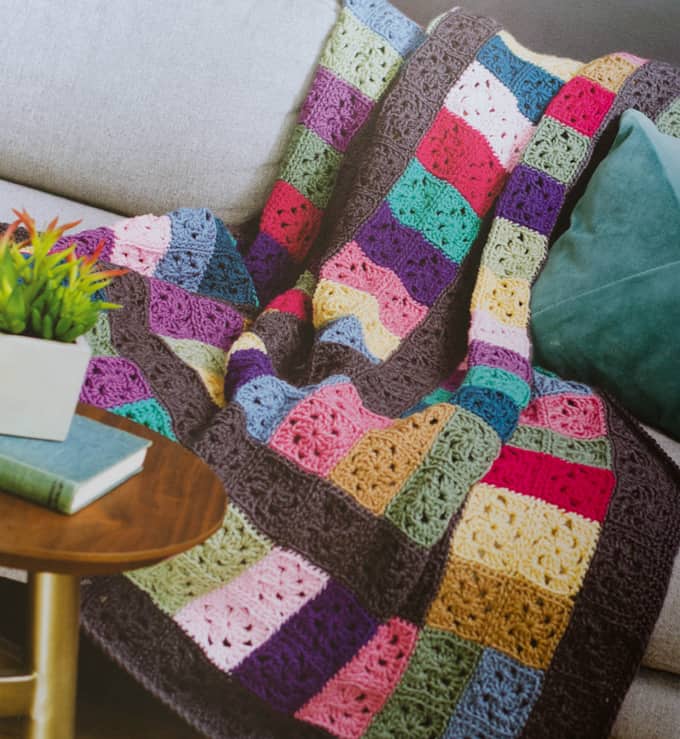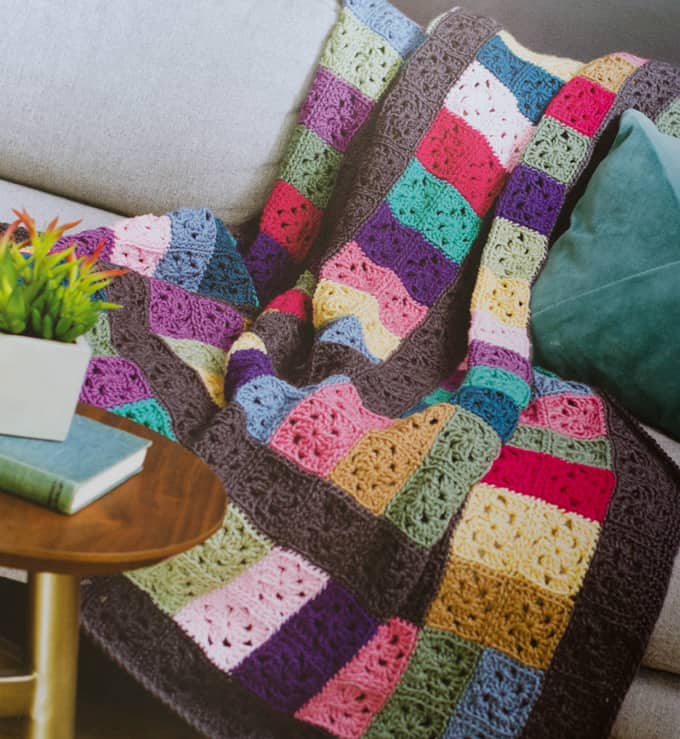 I also love this Scraps Around afghan.  I love how you can take a simple granny square and really change the look by the placement of color!  There are several patterns in this book that are "must haves".  If you are looking to de-stash your stash… well.. Scraps Around might be just the thing you need!
Here are the links to these great books again:
Check out Leisure Arts' website for other fun crochet projects to try!
Did you try one of these great patterns?  I love to see your creations!  Please share your projects with me on Facebook or tag me on Instagram.