Just in time for Easter.. my Easter Bunny Wall Hanging.  Super, super fast, so you can make it in an evening and still have plenty of time to get it done before the big day!  This is another of my paid patterns which you can find in my Etsy or Ravelry shop.  I like to share the behind the scenes story of my designs in a series called "back stage".  You can find other back stage stories here.
If you've been following me for awhile, you know that I have a whole series of crochet wallhangings that follow this same basic design.  My grandma made the first Santa wallhanging about 30 years ago.  She couldn't follow a written pattern (you can read more about grandma here).  So my best guess is that she saw something made by a friend and decided to make something similar.  I've adapted her design yet again and the Santa wallhanging was my first in the wallhanging series.  From there I went on to design a Thanksgiving Wallhanging, an Uncle Sam Wallhanging and a St Patty's Day Wallhanging.


I've been wanting to design an Easter version for quite some time.  But I struggled to come up with the perfect bunny.  I wanted just a head (not a bunny body & all) — but a circle for just a face seemed boring.  I love the button eyes on the other wallhangings and wanted to keep those, but wanted something fun for the nose and some floppy ears were just a must.  Finally, after much searching, I found the perfect bunny inspiration — a crocheted heart!  I adapted my heart to widen to make nice, big bunny cheeks and to fit in the space. At first I thought about sewing a satin stitch nose, but then I looked at my St Patty's Day design and just knew that St Pat's nose would be perfect in pink!  The ears were some trial and error, but they turned out just how I envisioned.
Color is so important and Easter colors are so varied, it was a bit challenging.  I wanted something that looked nice in my house but still had that pastel-Easter-like look.  When I found the Red Heart Variegated "Monet", I knew I had the perfect color.  Of course, the Easter Bunny Wall Hanging would look equally wonderful in other Easter colors too!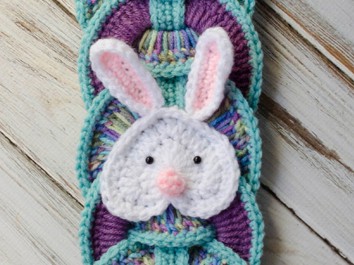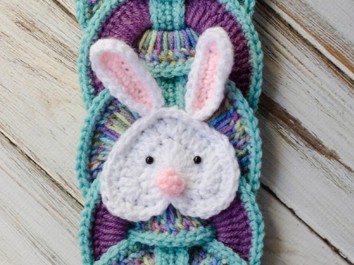 The very best part about the wall hangings is that they are so easy to make.  The circles are the round rings from canning jars.  You can either find some old, rubber canning gaskets or go with the newer, silicone version.  I was able to find some locally, but you can also buy them online.  The wallhanging doesn't take much yarn, so you may have just what you need from scraps.  And they are super easy to make.  In one or two evenings, I can have one made and ready to go!  I hang the wallhangings in my own home and I give them as gifts too.  Everyone loves them and it's fun to crochet a bit of love and happiness to give away!
I hope you enjoy the Easter Bunny Wall Hanging too!