14 Cute and Cozy Crochet Slippers to Knock Your Socks Off
This post may contain referral/affiliate links. Please read my disclosure for more info.
Looking for the best cute and cozy crochet slippers?  This darling collection of crochet slipper patterns are destined to keep those toes toasty warm!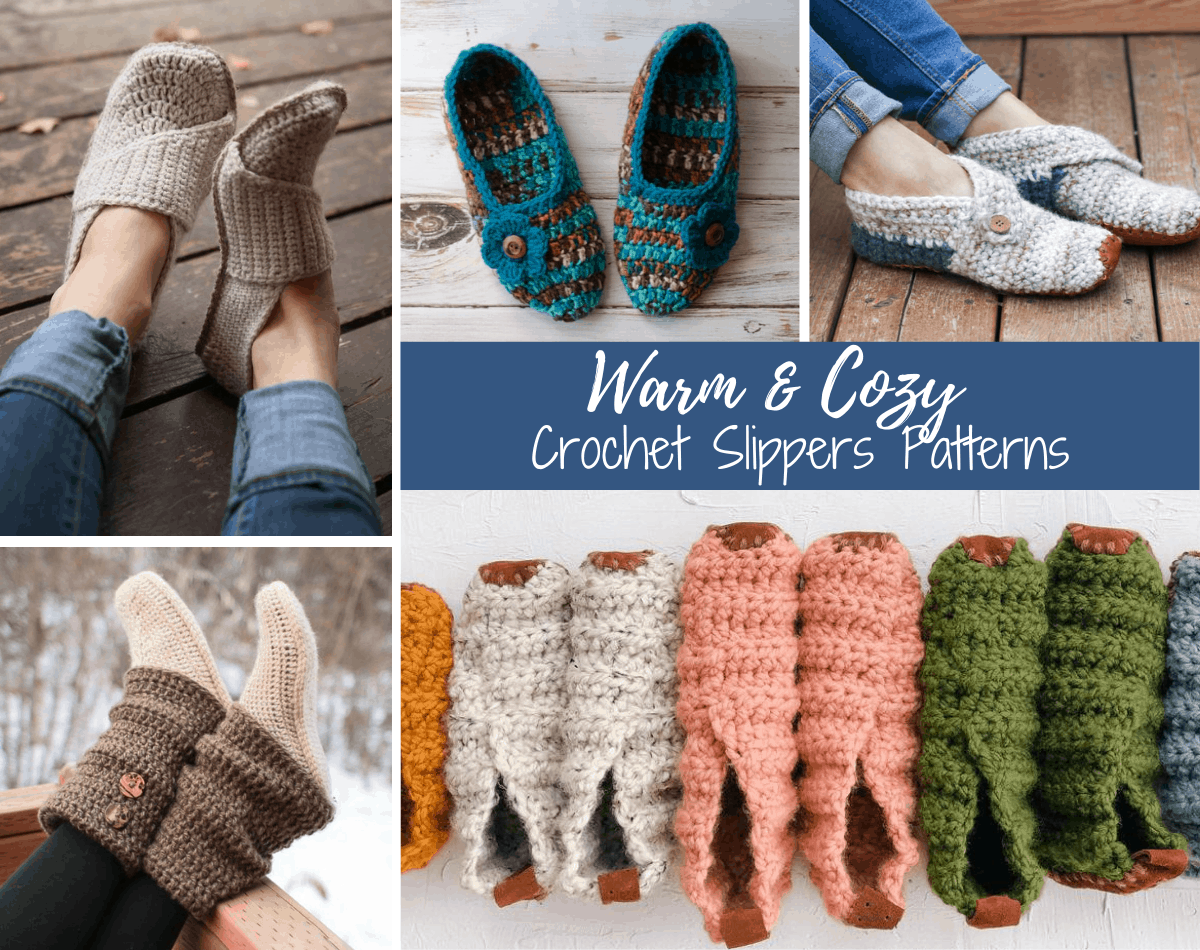 Crochet slippers might just be a guilty pleasure of the crochet variety. A crochet slipper takes very little yarn great for a scrap yarn project.  They are fast to make.  And let's face it, everyone loves a pair of cozy slippers!
Crochet slippers are often the first "big" project a new crocheter will try. As such, you might have a few crochet questions, so I wanted to answer a few before we dive into the gorgeous crochet patterns!
What is Needed To Crochet Slippers?
The beauty of crocheting crochet slippers is that they require very little yarn. A single skein of yarn will usually make a pair of slippers, making it the perfect excuse for indulging in that delectable skein of yarn you spied.. or using up your yarn stash.
What is The Best Yarn For Crochet Slippers?
Ask any crocheter the best yarn for crochet slippers and you're likely to get a variety of answers! A crochet slipper out of worsted weight yarn is great for using up yarn stash. But you can make a fast pair of crochet slippers using a chunky or bulky weight yarn (and yes.. our collection features both types of crochet slippers!)
Fiber is a personal preference too. An acrylic slipper is easy to wash and relatively inexpensive to crochet. Crochet slippers out of wool yarn are delightfully warm. Just be sure to check the yarn band for washing directions for the yarn you choose.
How Do You Make Crochet Slippers Non Slip
Many people love the soft feel of crocheted slippers! Warm and cozy feeling, like running around in a pair of thick squishy socks on carpet. But if you spend more time on hard flooring, you may be wondering how you can help with the slide.
Some crocheters have had luck with a puffy fabric paint, but for a nicer finish, try sewing on a leather suede sole to the bottom of your crochet slippers with overhand stitches.
Crochet Slipper Patterns
Let's dive into this collection of amazing crochet slipper patterns.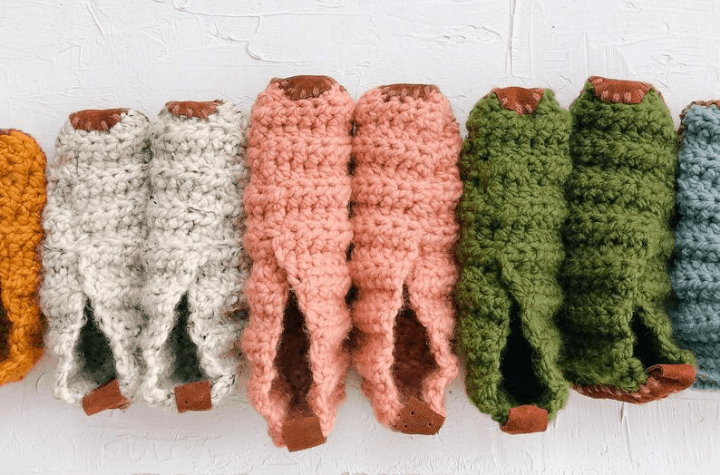 This easy crochet slipper pattern from Make and Do Crew have me running for my crochet hook! These crocheted slippers are a fun, bohemian style slipper that look equally fun to make! If you can crochet a rectangle, you can follow this slipper pattern. Use the chunky yarn recommended and leather soles for a finishing touch. This makes a great slipper for a woman, but it also would work great as a men's slipper or sized smaller (think tiny baby booties)! A great pattern with a lot of options for your yarn stash and style!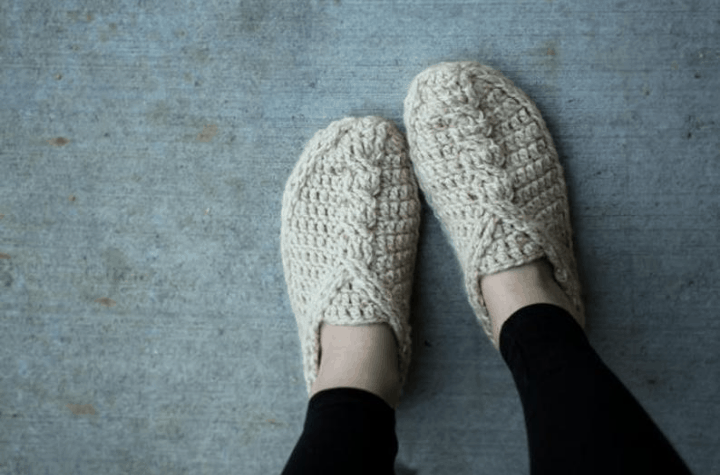 I love the braid-style on these slippers by Mamachee! If you are comfortable with working post stitches and love a bulky yarn project, you'll love this classy pattern.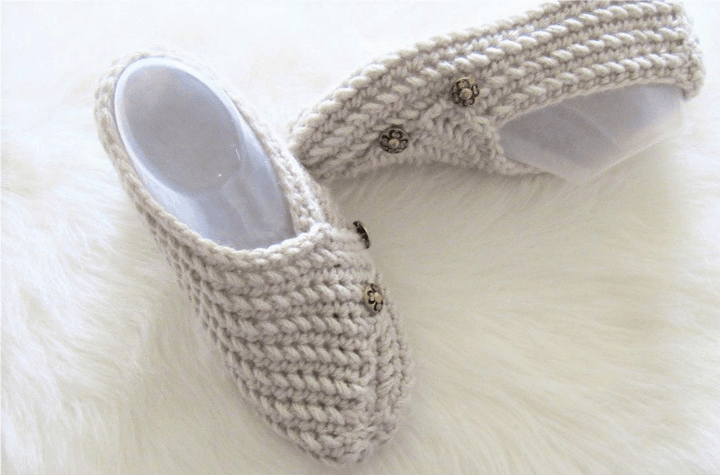 I love the texture and buttons on these slippers by Crochet Baby Boutique. This pattern includes step by step tutorials as well as a video link! Gorgeous!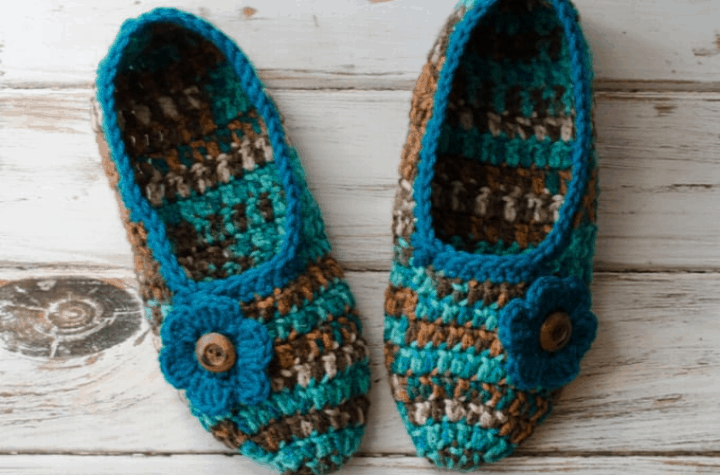 I love the easy pattern of Not Your Grandma's Crochet Slipper Pattern. This free crochet slipper pattern is a fan favorite from right here at Crochet 365 Knit Too. It is a fast and fun make with a crochet flower embellishment. But you could easily put a pom pom on the top of the slipper instead.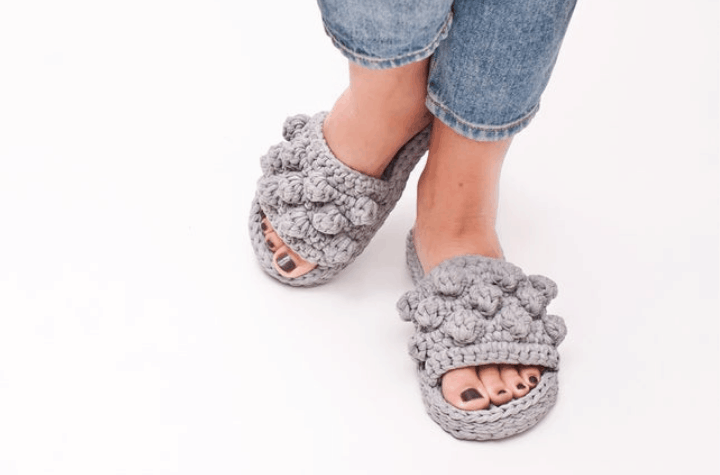 How fun are these bobble stitches on I Love Create Store's slippers? Also, aren't these slippers just perfect for showing off your summer pedicure? This is such a fun pattern for a warm-weather slipper!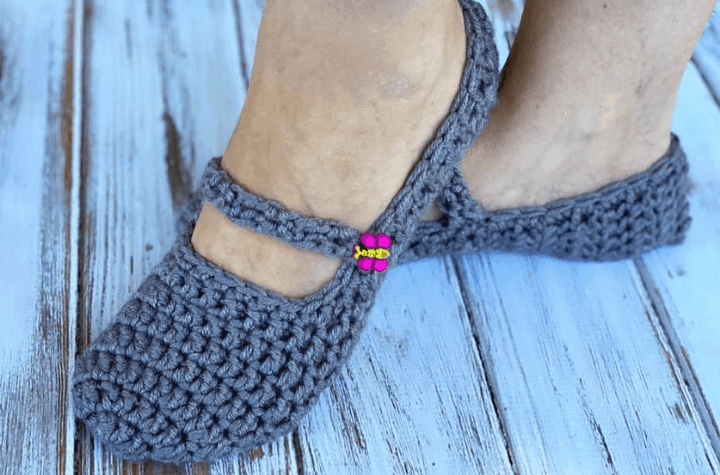 I love this easy crochet Mary Jane style slipper pattern! How cute are those butterfly buttons? I need to find some cute buttons so I can make this adorable slippers pattern from Love. Life. Yarn. What buttons would you pair with these?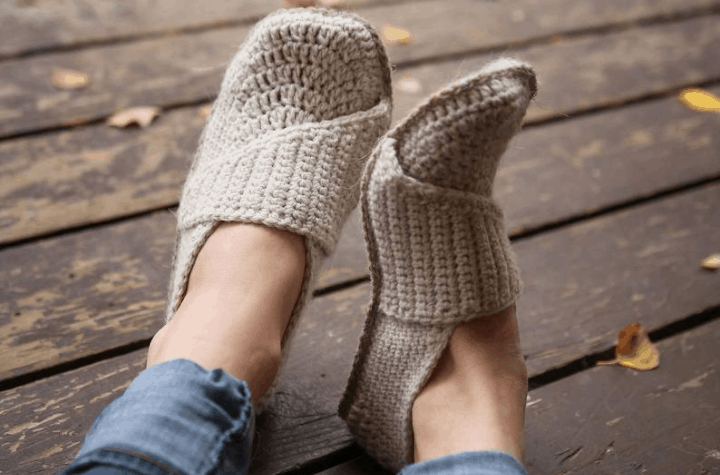 This wrap around style of Mamachee's slipper pattern is the perfect combination of stylish and comfy! This pattern works up in multiple children and women's sizes, but I bet it would look nice on a man too!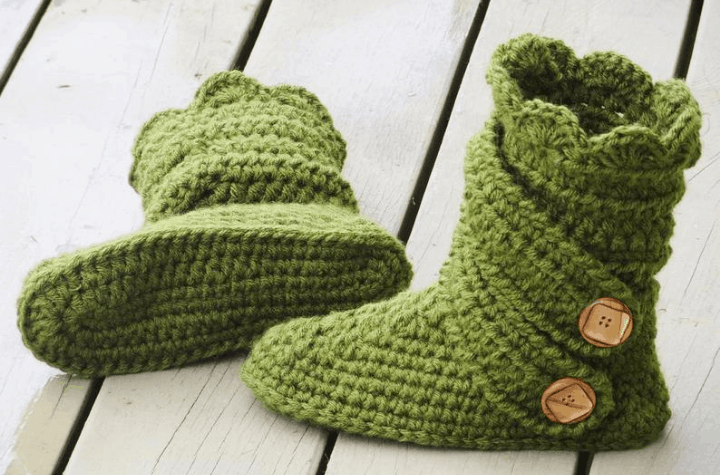 Are you ready for an adventure? These slippers by Crochet Baby Boutique make me want to take an adventure into a fantastical forest! This pattern features easy crochet stitches that will have you clicking your yarn slippers heels together to you own magical adventure!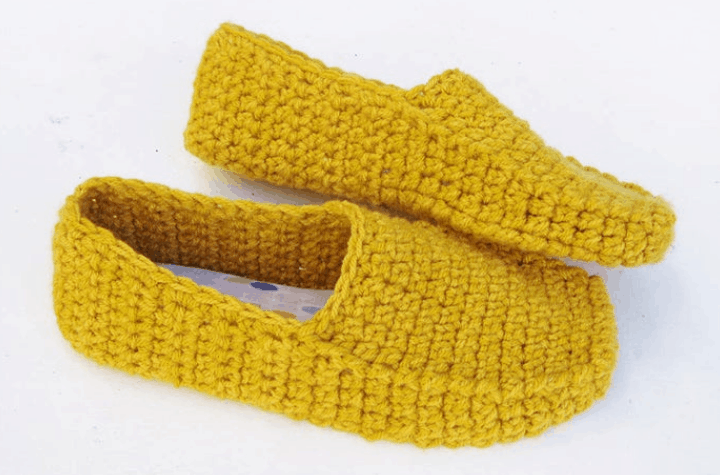 I love this loafer style that PDF Pattern Design has for crochet slippers! Multiple sizes for almost everyone in the family! This written pattern is full of step by step photos, stitch charts and more to make your crochet project a success!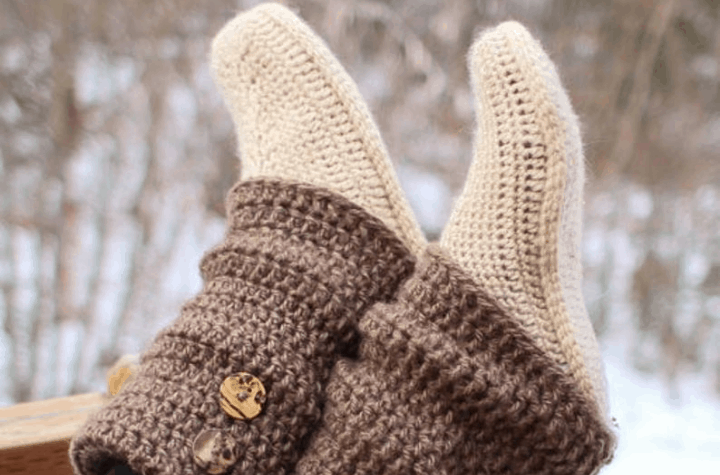 Looking to kick back and relax at home on a cold winter day? These crochet slippers from Mamachee look so comfy! Perfect for those lazy days at home. What a fun crochet pattern!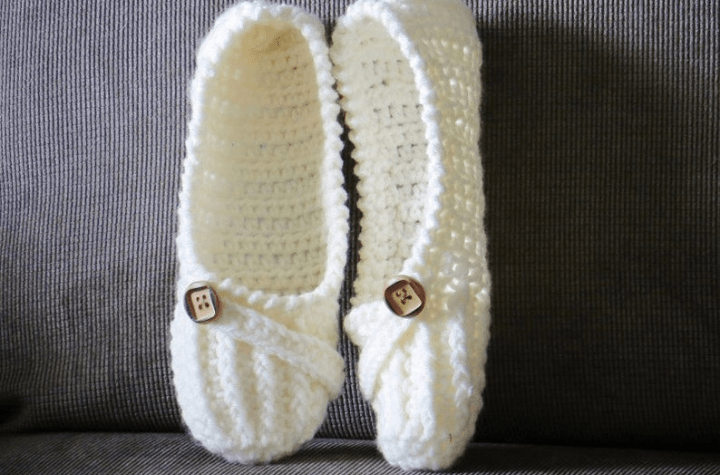 These crochet slippers from Crochet Baby Boutique almost look like ballet slippers! So delicate and simple! Crocheting these cuties would be so fun!
Want a fun take on crochet post stitches? These crochet slippers from Sirins Crochet has me swooning and running for my yarn and hook! What a fun stitch and crochet pattern!
MORE CROCHET WEARABLE PATTERNS
If you love these crochet slipper patterns, you might also like to check out these other crochet wearable patterns:

1. Ribbed Wonder Crochet Hat //   2. Crochet Baby Booties //   3. Crochet Crown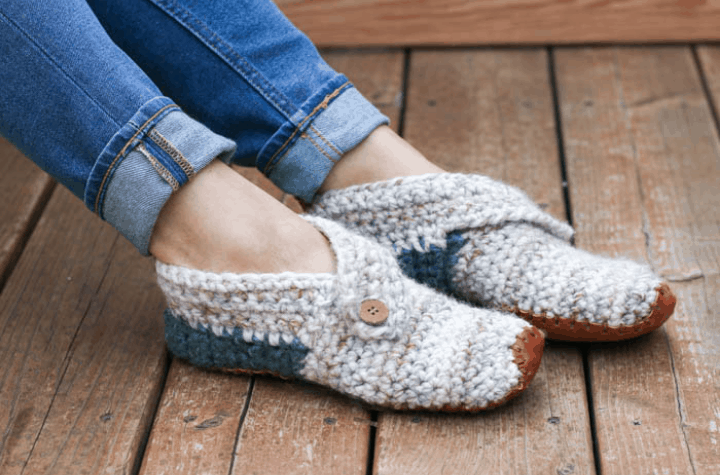 These muted, neutral tones have me dreaming of a cozy cabin in a forest! These crochet slippers from Make and Do Crew. Really.. don't your toes deserve to be cuddled by a warm fire in these easy crochet slippers on a cool winter morning!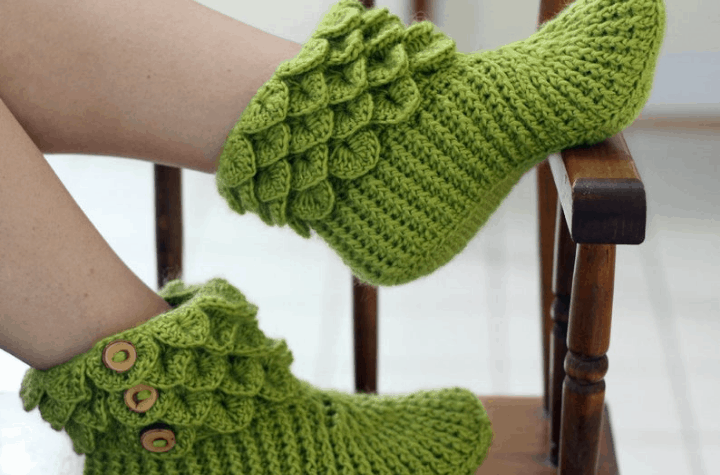 Yearning to be part dragon? Well these slippers from Bonita Patterns might get you one step closer! The crocodile stitch cuff and combined with the ribbed pattern is just stunning! Get out your crochet hook and some yarn and get ready for an adventure!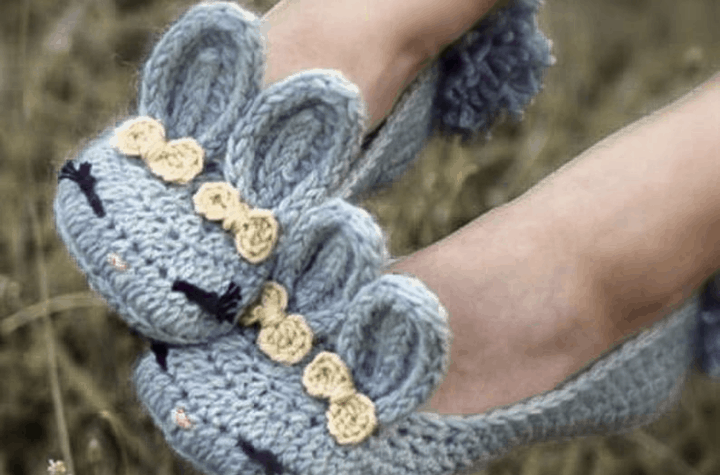 When you want to feel adorable, whip up some cute bunny slippers complete with a pom pom tail at the heel! What an cute pattern by Two Girls Patterns! The perfect traditional slipper pattern jazzed up with cuteness!
Do you love these cozy crochet slipper patterns as much as I do? Are you torn between which pair to start first? And will you make them for yourself or to give away? Let the crochet slipper adventure begin!
I love seeing your finished projects! If you enjoyed making crochet slippers, I'd love to see yours on Instagram.  If you are on Facebook, stop over to the Crochet 365 Knit Too Facebook page or pop over to the Crochet365KnitToo Club and share a photo!  I'd love to see your work!