Choose Happy ~ A Yarn Lover's Tale
This post may contain referral/affiliate links. Please read my disclosure for more info.
In the deep recesses of my soul is a fire that longs to be free.  Free of illness. Of sadness. Of worry. Of all that weighs my heart down in these troubled times. The burden is hard.  But the spirit still burns..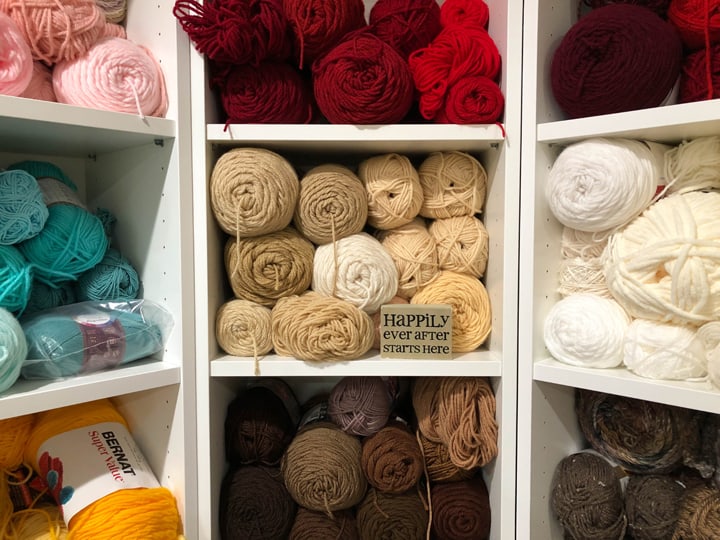 Let me set the stage.  At the moment I am up in the quiet morning hours sitting at my desk.  Outside is a dreary spring morning. It's not the kind of morning that poets write about when they think of spring.  There's been some rain, so the grass and driveway are wet and the grayness of it all matches my mood.
I think we're on day 9 of 'stay home, stay safe'.  I'm not really sure because there were days of less restrictive measures beforehand and the days all blur together and seem the same anyway.  Just one day after another of getting through, riding the emotional roller coaster, where one minute it seem like life as usual and the next the worry and the unknown bite at the neck. It's a grieving of sorts but with worry added.  And it's hard.  Its just hard for everyone.
So here I sit at my desk, thinking of all the things I should be doing. The patterns I should write.  The projects I should crochet.  But my heart is heavy.  My husband is an essential worker, currently working in a hospital, and the troops have just been ramped up so to speak.  This means double shifts for the foreseeable future, likely with very sick, contagious people.
I wonder how he'll sleep in the 6 hours at home between shifts.  I want him to retire. To quit. To stay safe in this cocoon of our house so we can weather this storm together.  But he is duty bound, driven by a moral compass that I both admire and despise.
And then.. in this low moment, I look up from my desk and see this: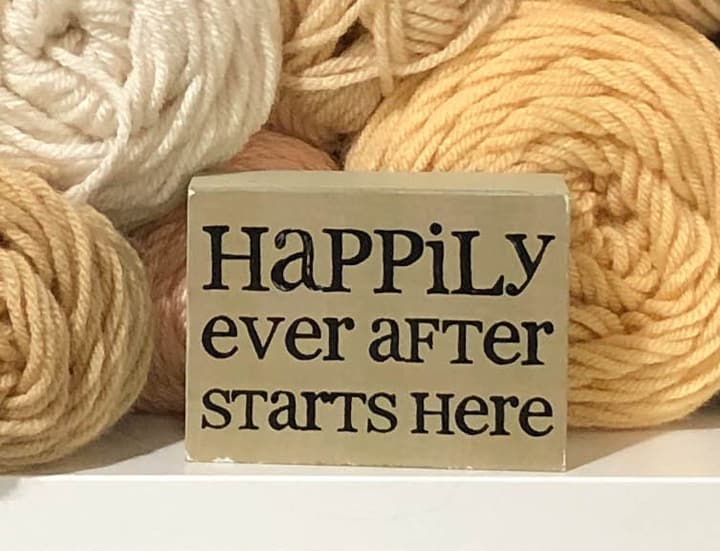 It makes me smile in a melancholy way.  This little sign block of sorts is a little bit of love between my husband and me.  I don't remember where it came from.  Maybe I bought on a crafting adventure.  Maybe it was gift when we married almost 7 years ago.  I'm not sure. It's so small it doesn't quite fit anywhere.  But yet it's tiny and powerful.
At some point, we took to hiding this little gem for each other to find in our house.  It's not like we made up a game or set rules.  Just one day it appeared where the other might happen to find it.  And once found, the other tucked it in a little nook to be spotted later.  Sometimes it is a rapid race…being found and re-homed within a day.  Other times days or weeks go by and its forgotten, only to be found at an unexpected moment.  A surge of unexpected love.  But yet. Simple.
Last week I was unpacking boxes from our move.  And yes.. we DID move over a year ago. Despite what they say about not needing what you don't unpack, I don't roll that way.  With all the crazy, unpacking a box or two makes me feel good.  Like somehow I'm accomplishing something in this uncertain world. And out of one of the boxes the other day, I spy this little sign and leave it for my husband to find.
And this morning, it's my turn to be the finder, as I spot it amongst my yarn, catching my gaze above my computer screen.  It reminds me of what's important.  The love between my husband and me.  That together we are strong and can weather any storm no matter the outcome.  It also reminds of this: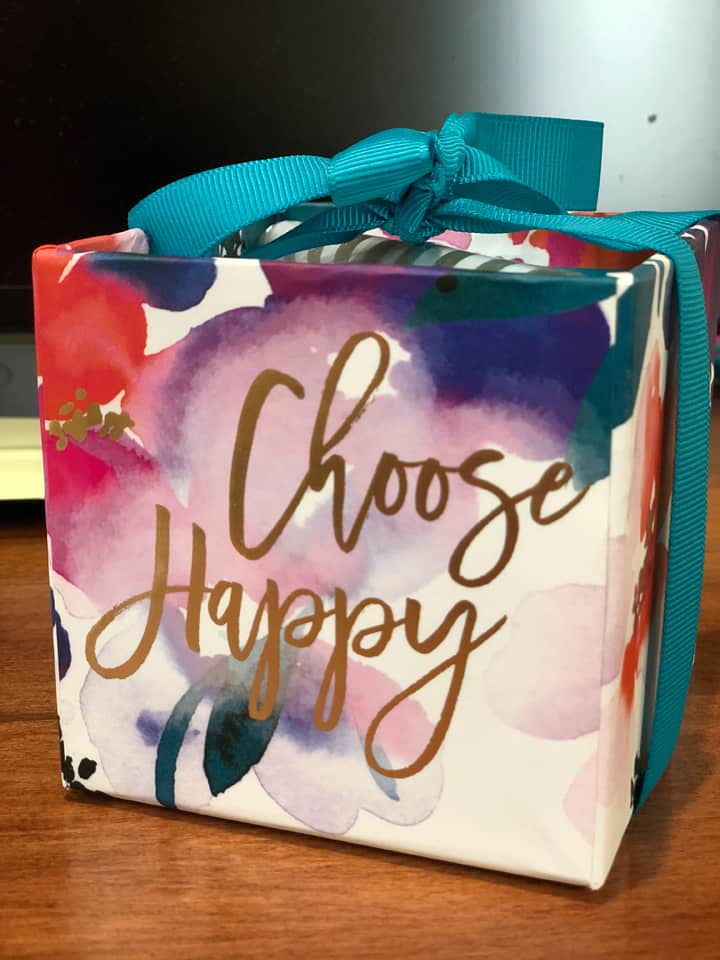 That I can choose to be happy.  That happy isn't something to be purchased.  It comes from inside.  And like that little spark of fire, we can blow on it a bit and grow it into a flame that sustains and warms the soul.
As I sit in my little space I hear the birds singing back and forth on this gray spring morning.  They don't seem to mind so much that the sky is dreary and ground is damp.  They find the happy and sing their cheerful tune, reminding that life continues. That joy is still there and that maybe if we focus on that cheerful tune we can ride out this storm to the other side.
I'm finding joy in small things.  Slowing down has benefits. I remember I like to cook. I find a recipe I haven't made in 15 years and remember my tweaks to it.  It makes me feel homey in a weird way.
My yarn.  You can call me a hoarder, but I'll argue that it's my JOB to curate yarn. It makes me happy to pluck a skein off the shelf and make something.  I love the transformation from yarn to project.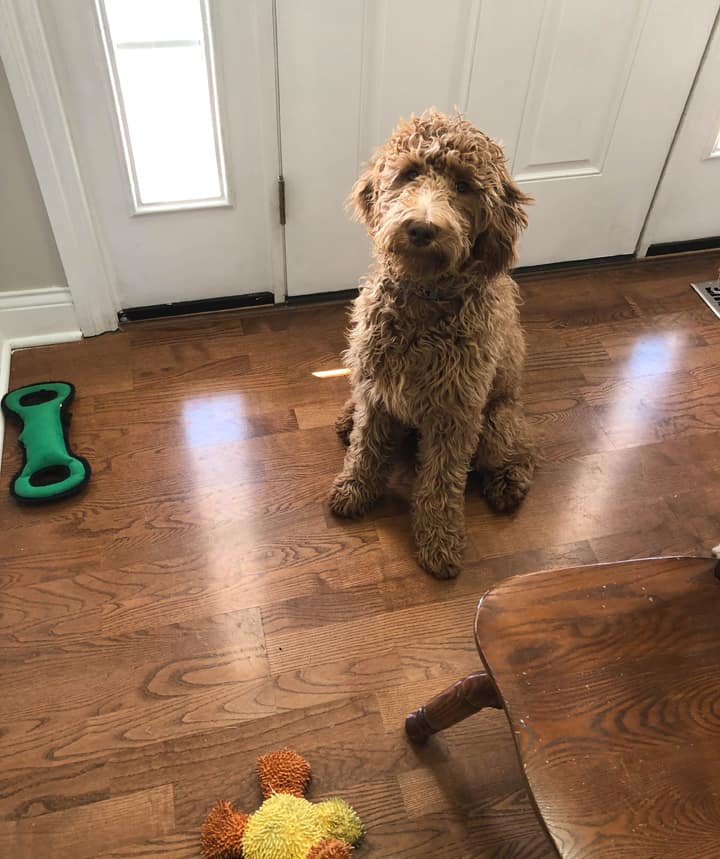 My little Winston pup brings me joy.  My older pup girl, Cricket, does too.  But Winston just has a way.  He's a sweet lover like no other dog I've ever met.  Unprompted, he'll come and sit as close as can be, lean in and then go limp in relaxation–like he's pouring all the love in his body right into my soul.  This photo is my greeting most days when I come down from my office. I've got the large, narrow box from his crate, propped up against the stairs, like a gate of sorts–because 'making do' is what we do when we can't get out to buy a proper puppy gate.
And there sits Winston.  Patiently waiting with his 2 of his 3 favorite toys. He carries the yellow duck around like a small child carries a baby doll. He knows that once my hubs is up and I come down it's walk time on our 5 acres.  And after that is puppy frolic time.  He'll run full speed around the pine trees while my old girl Cricket does a slow stroll.  They work it out–this young energetic thing and the older, loving girl.  They seem to know the others strengths and limitations and roll with it.
There's lots to be learned. Love. Acceptance. Having fun.  Lots of fun, actually.  They make me laugh.
I think that's really my message.  To myself.  To my husband.  To all during these challenging days.  Find joy.  Find happy. Laugh. Have fun.  And maybe crochet.  Crochet makes life better after all.
The quickest way to all my free crochet patterns is HERE.  If you're wanting to learn How to Crochet, you can start here.
Stay well with your soul, my friend.
And remember… I love seeing your finished projects! If you enjoyed making one of my patterns I'd love to see yours on Instagram, be sure to tag me @crochet365knittoo.  If you are on Facebook, stop over to the Crochet 365 Knit Too Facebook page or pop over to the Crochet365KnitToo Club and share a photo!  I'd love to see your work!