Do you ever get a new little something and every time you see it, you just have to smile because it makes you so happy?  Enter this amazing Crochet Hook Caddy.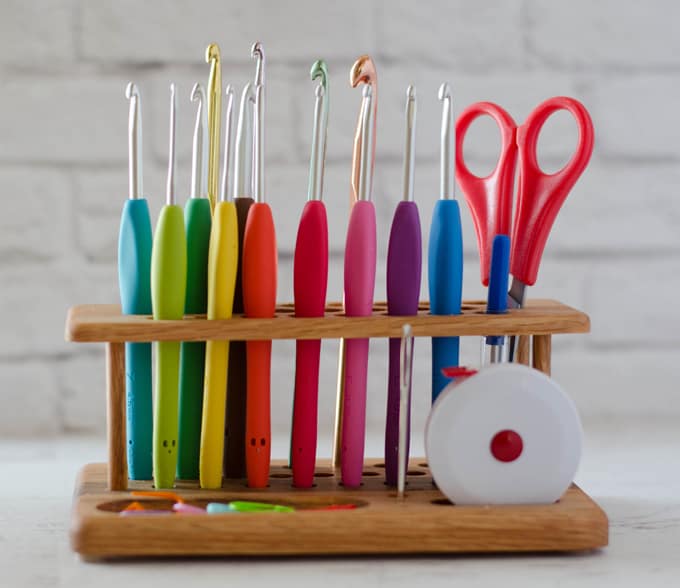 And you could be smiling TOO because Chetnanigans, the creator of this fun crochet hook caddy is giving away a free one to a lucky Crochet 365 Knit Too reader (scroll down to read all the details)! After discovering this awesome crochet hook caddy on Pinterest, I reached out to the folks at Chetnanigans. They not only gave me a free one to review, but carefully packed one for a lucky reader!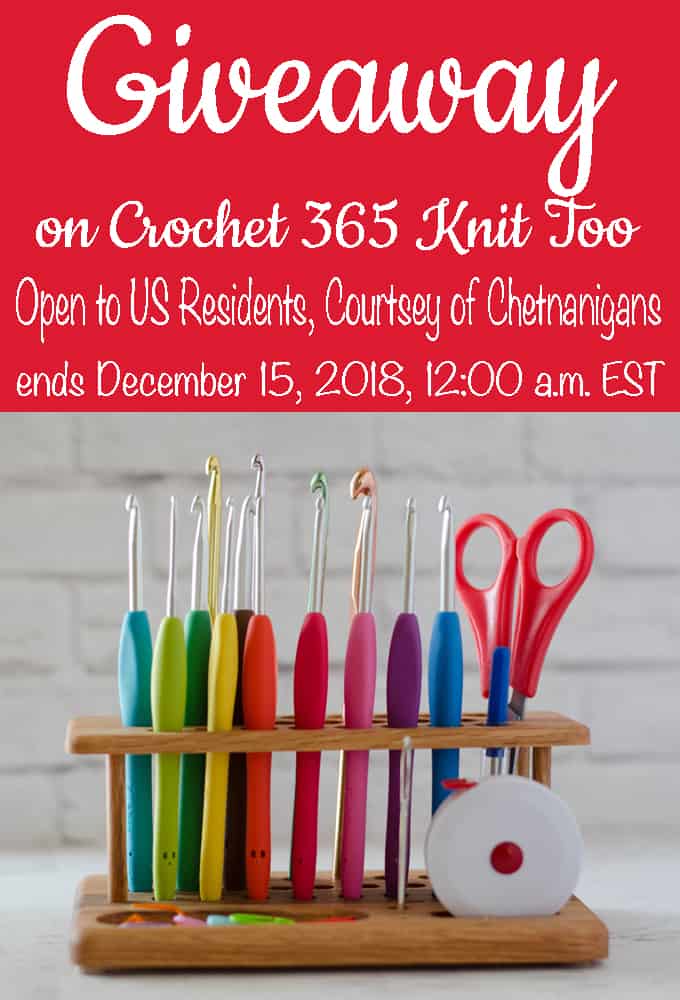 *Don't want to wait to win?  Chetnanigans has a special offer JUST for Crochet 365 Knit Too Readers!  From December 8 through December 21, 2018, just enter this special code:  CROCHET365  when you check out and get a 15% discount!*  Click here to see everything Chetnanigans offers!
I was looking for something that would hold a set of my favorite crochet hooks handy by my favorite chair.  I love this crochet caddy because it not only holds the Armour hooks but also holds my Boye hooks. It also comes with a small tape measure, a pair of scissors, seam ripper, tapestry needle and stitch markers.  I was really impressed that Chetnanigans included all those little extra touches.
There is so much to love about this crochet hook caddy.  The quality is top notch–the wood is perfect, everything finished to perfection.  I went with the Slimline Comfort Grip Deluxe model, but Chetnanigans has all sorts of models to suit your personal crochet needs.
I love the ability to manage up to 25 of my hooks in such a compact, but very elegant organizer!  And no matter what I need, there it is at the ready!  No more setting a hook on an end table and having it wind up on the floor under a chair.  (Please tell me this isn't me..and this happens to you too?)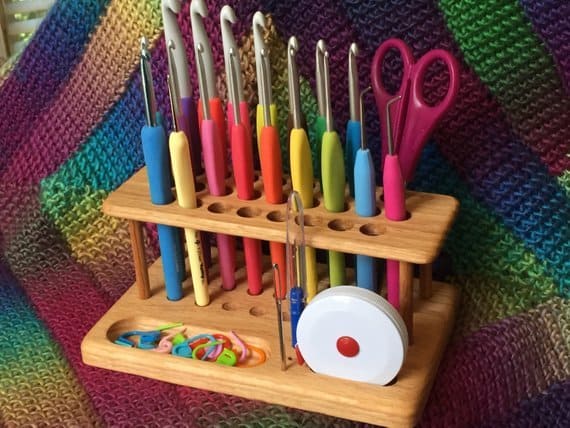 Along with my amazing Crochet Hook Organizer, I had the opportunity to learn a little more about Chetnanigans.  I have to admit… I envisioned a charming fellow named "Chet", with an argyle vest, cutting and sanding wood in his workshop.  You know.. kind of like Santa, but younger and no beard.  Because such a well constructed organizer must be made by someone very clever with a great attention to detail.  Certainly "Chet" must have a jolly disposition because .. hello… he makes cool stuff for crocheters!
Spoiler alert.. there is no "Chet".  Imagine my surprise!  It turns out the "chet" part of "Chetnanigans" is pronounced "shay", just like the end of the word "crochet".  Clever, huh?  You know.. really.. I'm torn… I'm not quite ready to give up my imaginary argyle wearing Chet… but I do love clever plays on words.
In reality, Sean O'Brien is the Owner and Craftsman behind the Chetnanigans and his business partner, Holly Banning, is a lifelong fiber artist who co-designs and tests products.  This great team has created over 80 unique, heirloom quality crochet accessories for the fiber community!  All amazing, top notch, artisan made products!
Head over to Etsy and check out Chetnanigans.  Get 15% off when you enter the special discount code at checkout:  CROCHET365 (good Dec 8-21, 2018).  And be sure to enter the giveaway too!
a Rafflecopter giveaway
As always, I LOVE to see your projects and I'd love to see your Crochet hook caddy "in the wild!"  If you share your a photo of your projects or crochet hook caddy on Instagram, be sure to tag me @crochet365knittoo.  If you are on Facebook, stop over to the Crochet 365 Knit Too Facebook page and share a photo!  I'd love to see what you're up to!