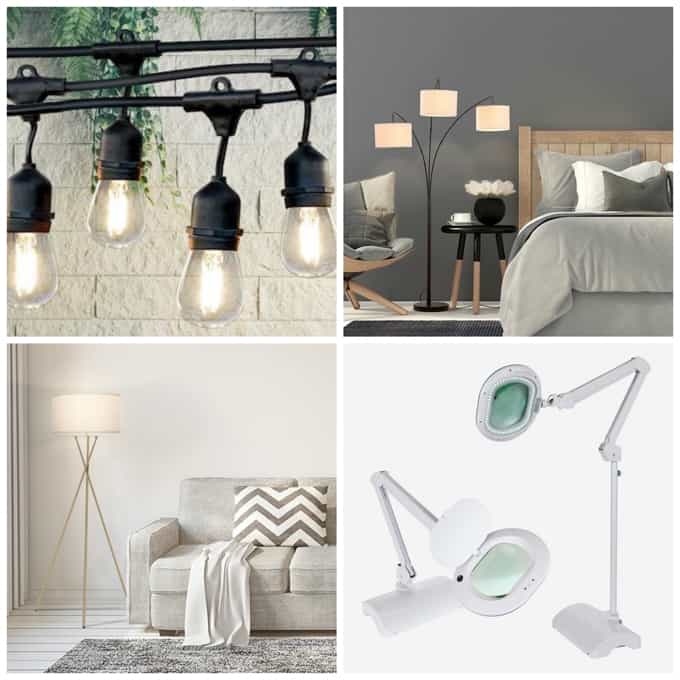 This light just saved my crochet life.  Seriously.When the folks over at Brightech Light Shop offered to send me a light of my choosing in exchange for my honest review, I leapt at the opportunity.  I've been wanting/drooling over this type of light FOREVER and just never got around to buying one.  I chose this XL Magnifying Light 2-in-1 Floor Standing To Table Model because it seemed like it would work wherever I might want to use it in my house.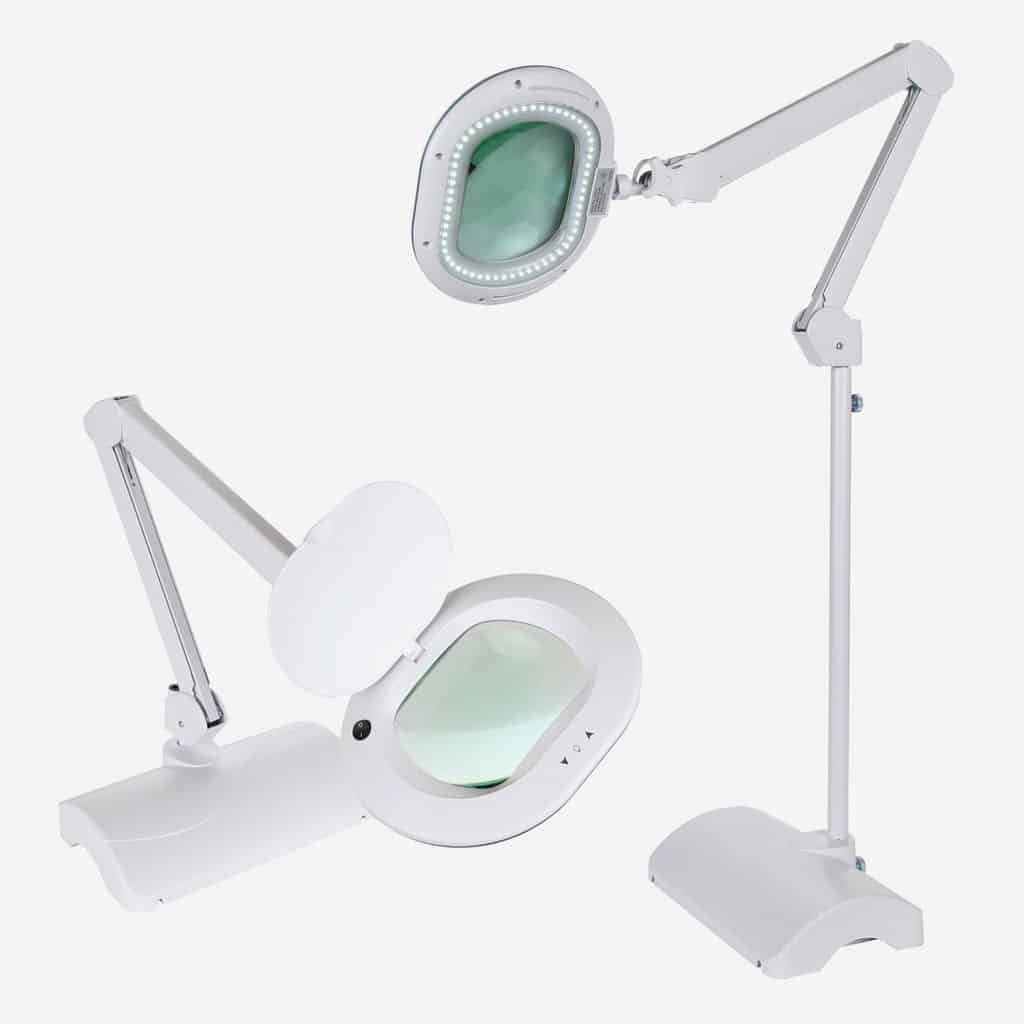 I like the idea that I can use it on my end table (since I crochet in my favorite chair most of the time) OR use it standing.  I also liked the idea that I could take it all over my house.
When my Brightech Magnifying Light showed up a few days later, I was surprised to received such a heavy box.  When I opened up the box and put it together I had to marvel a minute at the amazing construction.  I grew up in a family of engineers so I took a moment to appreciate the fact that everything is weighted and balanced perfectly.  It was just a couple of simple steps to get the pieces together and I was "in business".
How the Brightech Magnifying Light Saved my Crochet Live
Ok… I'll admit.. that might be a LITTLE dramatic.  But let me explain.  I bought a new, dark blue winter coat.  I needed a winter hat.  As a crochet blogger this means I needed to crochet a coordinating hat to match my new coat, right?  Side note: I seriously justify way too many purchases because they spark crochet design ideas.
So I pulled out some Vanna's Choice Midnight Blue yarn I had in my stash–because what gives a crocheter more joy than making something amazing out of something out of the stash haul.  It was on a weekend day and this seemed like an amazing idea.
Until I next picked up the project on a weekday evening… and A PROBLEM.
Like many of you, I live in a cold weather state.  In the winters here in Michigan, the sun goes down very early in the evening.  In fact, I'm often driving home from my day job in the dark.  So when I sat down to work on my new hat on a cold winter's evening, I found I just simply COULD NOT see the dark blue yarn with my regular living room lamp–even though that lamp is quite bright.  It simply just wasn't bright enough.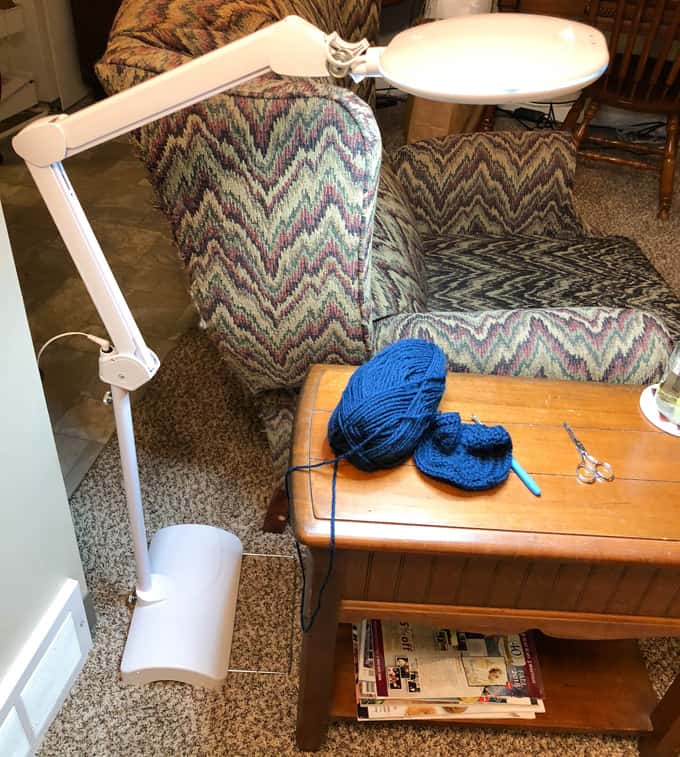 Enter AMAZING.  This Brightech Magnifying Lamp to the rescue!  I set it up right behind my favorite chair and PRESTO!  I could see my stitches again.  It was so great to be able to my stitches and comfortably work on my project!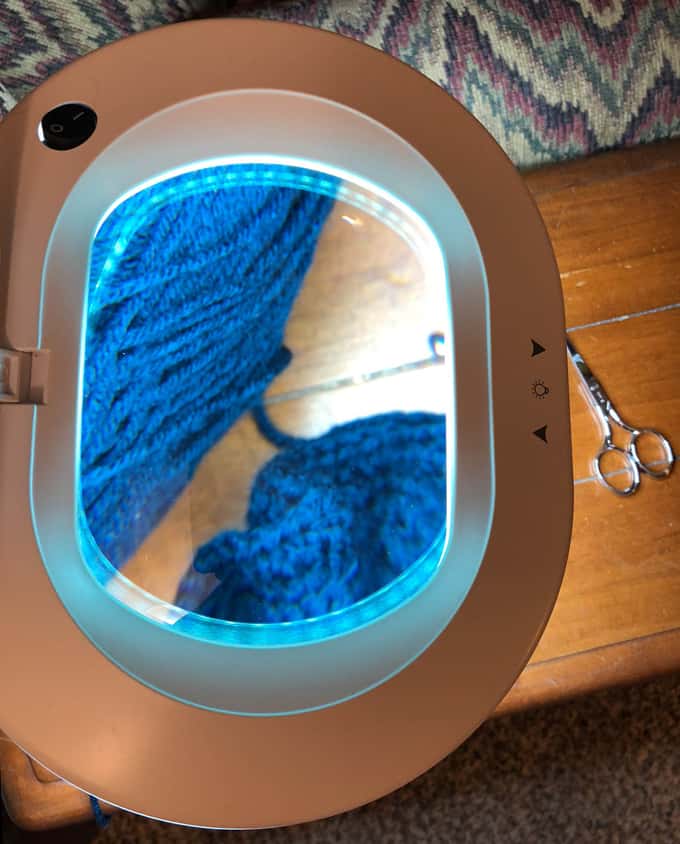 The Brightech Magnifying Lamp also has a flip up top area on the top of the light that reveals a magnifying glass.   I didn't really use it for this project.  But, I also like to make jewelry.  I've found that especially as I age that it's harder and harder to see my work.  I end up squinting and hunching which hurts my eyes and my shoulders.  As a result, I've sort of steered away from this hobby in recent years.  Now I'm excited to get back at it and use the magnifying glass feature on this amazing light.
Brightech has all sorts of lights for your home and crafting needs.  I'm thinking that this clamp on model might work great on my sewing machine table (tiny sewing machine needle, I'm talking TO YOU!).  Really… I'm just seeing a lot of great uses for this Lamp.
Look for the blue hat in an upcoming blog post.  For those who are savvy, you might notice that it's starting out a lot like the Buckeye Beanie!
In the meantime, check out all the great Brightech Lights here.  I bet you'll find something to love!