Do you ever see such an amazing product that you literally want to get one for ALL of your loved ones?  Enter the Bightech Magnifying Light.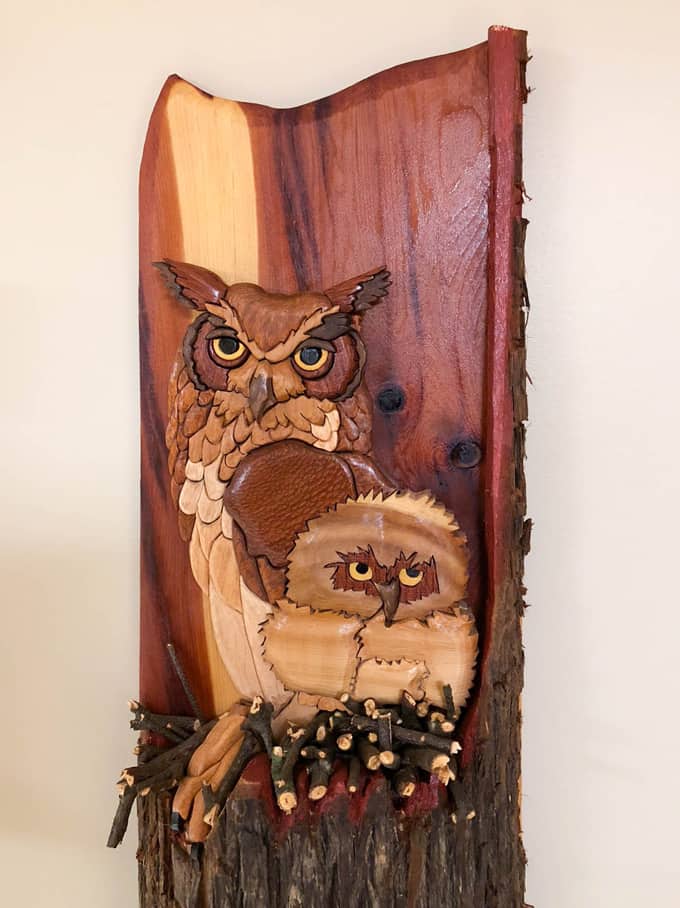 If you remember, few weeks ago, I told you about the Brightech magnifying light that literally saved my crochet life?  (If NOT, you can read about it right here.)  Well, when I was checking out all the Brightech products–and they do have a lot of them… I immediately thought of my dad.
You see, my dad is a retired mechanical engineer.  And what's a smart, resourceful sort of dude going to do with his retirement time?  Design and make these intricate intarsia wood pieces!  Often he starts with a commercial pattern.. but in no time, his imagination goes into overdrive and he's designing 3D pieces to add to his vision. The colors in the pieces come from the unique wood choices he makes (no staining here) and I think part of the joy comes in the adventure of securing the right wood.
His workshop is in the basement of their home and sometimes that artificial light is just not in the right place where he needs it for this intricate work.  I knew a Brightech Magnifying light would be JUST PERFECT for dear dad. So I asked the kind people over at Brightech if maybe, just maybe I could get a SECOND light to review.. just for dad.  And they said YES!  (I kind of thought that was gutsy of me, honestly—and so kind of them to oblige.)
It was SO WORTH IT.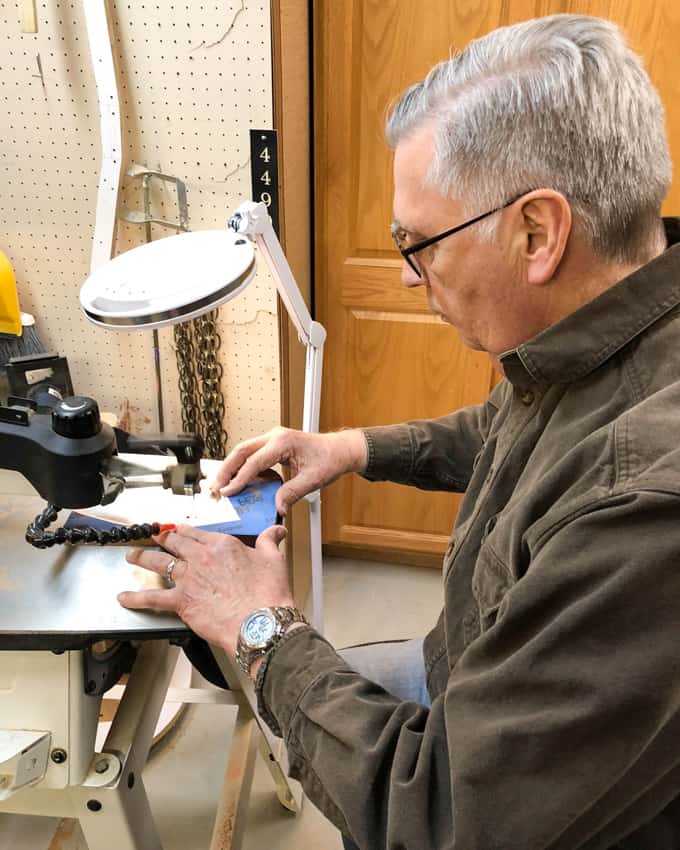 Brightech's shipping was really fast and the lights are packaged very well.  After they arrived, I stopped by my parent's house to deliver the light.  To tell you the truth, I really wasn't quite sure what dad thought of it at that point.  Was he just taking the light out of some sort of obligation to his crazy, blogger daughter?  Would he even set it up?  And worse.. what if he didn't like it?!
Well a few days later, I got my answer. In our family, my mom is the usual deliverer of the news.  In fact, lots of times, if dad answers the phone he pretty much just hands it right over to mom!   I called one day and mom announced right up front, "Your father, loves that light."  Unprompted.  That seemed like a good sign.
When I showed up to take photos, dad got into his woodworking outfit (I'm not quite sure what this is–but it did require some sort of wardrobe change) and brought us down to his workshop.  My husband loves to visit the workshop and check everything out, so of course he came along.
I have to tell you.  I am in awe of this man's workshop.  Every former kitchen cabinet or other leftover useful thing has been re-engineered to fit some piece of woodworking equipment or tool.  It really feels like he has everything.  And can fix anything.  In fact, as kids, we were so convinced dad could repair everything on the planet, one of us (I'm thinking me) left a popped balloon on his workbench for repair!  Because that is where you put things to be fixed–on dad's workbench.  Dolls.  Toys.  You name it, he usually can fix it.  He'll pick it up, look at it to assess the problem.  Then you'll get a little mmm hmm… and a "I can fix that" or if it's a particularly brilliant fix, you might even get an "Ah…HA" and a finger up in the air.  It's good to have a dad with a superpower like that, let me tell you.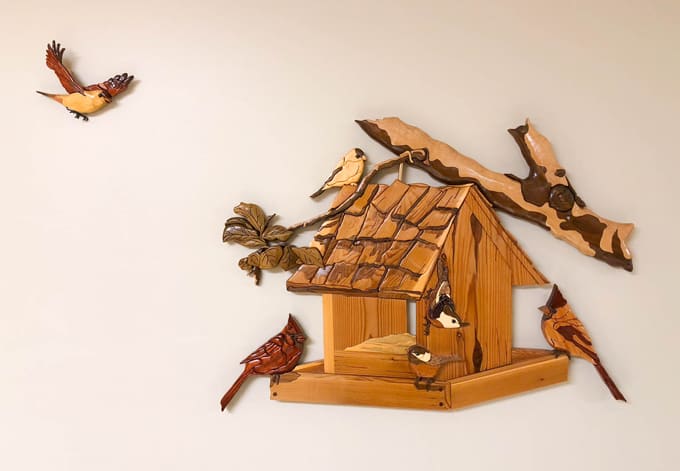 And so we went to the workshop, passing one of my favorite pieces on the way.  I just love that bird on the left coming in for a landing, don't you? And entered the workshop…that place of mystery…where all good things happen.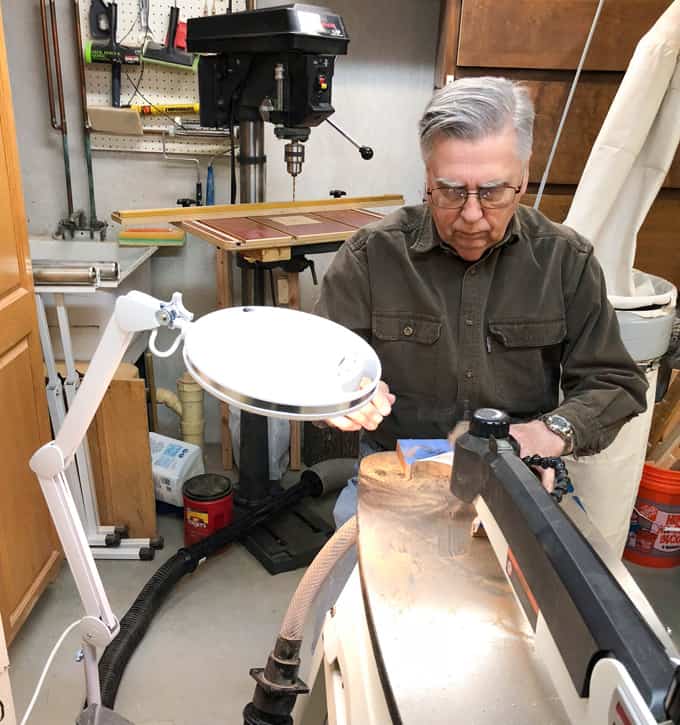 Dad's light is the Lightview 2-in-1.  It can stand on the floor, or you can easily transform it to a lamp that fits on a work table.  It's compact enough that he was able to easily get it into just the right spot to shine good light onto his super fancy jigsaw.  I want you to know.. these are actions shots.  Dad was making precision cuts while I was taking photos.  I probably should have shot a video for you.. just so you could get the full effect.
After his design is planned out, dad transfers the cutting lines to the wood.  Then he carefully cuts along the lines he's drawn.  Since everything has to fit together just perfectly, it's very important he cuts accurately.  And the Brightech Magnifying light lets him do just that.
I noticed the "design" was on a nearby table and was hoping to get a shot of his work in progress.  But that was a no-go.  It's TOP SECRET.  So I guess I'll have to wait until the finished masterpiece is complete.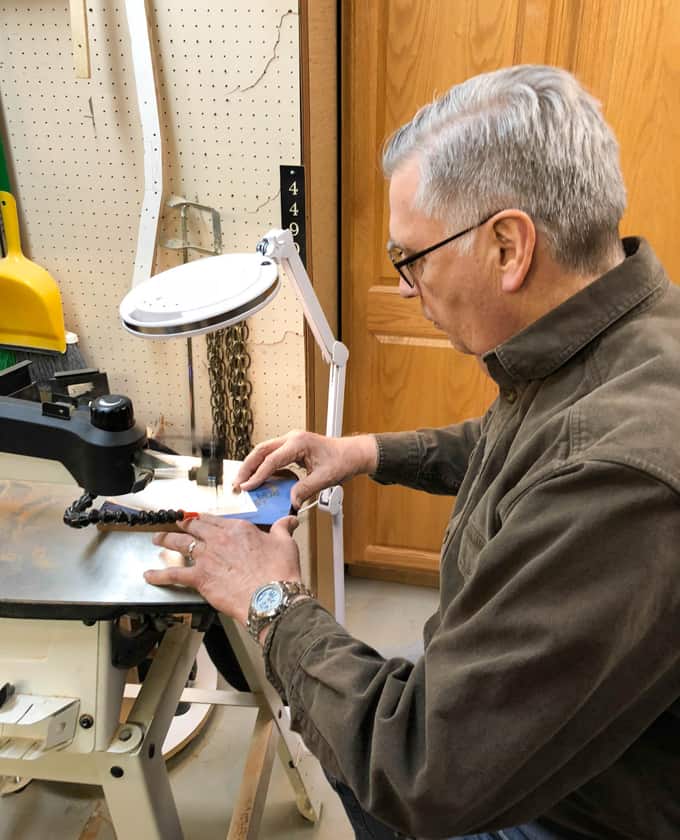 The thing I love most about this Brightech light is its versatility.  Dad can easily move it to wherever he needs light.  And when he's working at a desk drawing out his latest design, he can use the light in the desktop position.  The light bends in just the right places so you can get it into the perfect spot.  And for getting into the nitty gritty tiny detail, dad can utilize the magnifier on the light.
Really.. it's pretty amazing. An amazing light for an amazing dad.  That makes me pretty darn happy.
Thank you again to Brightech for sponsoring this post and providing the amazing lights.  If you're looking for a light for your crafting needs, check out all the lights Brightech have to offer.  As a reminder, dad is using the Lightview 2-in-1 and I'm using the Lightview XL 2-in-1 (which you can read more about here).  Either would make a great gift for yourself or for a crafter or artisan family member or friend.